Jonathan Ross renews ITV contract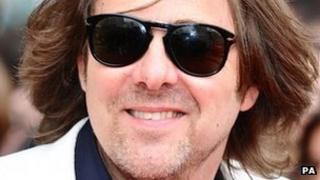 TV presenter Jonathan Ross has agreed a new contract with ITV1, which will see him front a further three series of his chat show.
The host, who defected from BBC One to ITV in 2010, attracted an average audience of 4.1 million during his first series, which began in September.
"I am thrilled to be signing again for ITV," the star said in a statement.
Ross's new contract will see him present three 10-part series in 2012 and 2013, plus Christmas specials.
"It's like that stage in a relationship when you've been leaving a few clothes over every time you stay, and they finally give you a door key," Ross said, on his renewal.
During Ross's first series with ITV, which began in September, he interviewed guests including Lady Gaga, Noel Gallagher, Dame Helen Mirren and Hugh Jackman.
Reviews for the opening show were lukewarm. The Telegraph's Serena Davies said the chat show "looked remarkably like his old one".
Daily Mail reviewer Sarah Bull wrote: "Different channel, same old show!"
Despite the critics, ratings for the show were above average for the timeslot.
Elaine Bedell, ITV's director of entertainment and comedy, said: "Jonathan remains one of the biggest talents on UK television and his first series for us shows that our ITV audience has enthusiastically welcomed him back to our television screens, doing what he does best."