Julie Walters wins Emmy award for portrayal of Mo Mowlam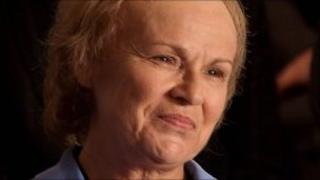 Julie Walters has won an International Emmy award for best actress for her performance as Mo Mowlam.
She portrayed the late former Northern Ireland secretary in Channel 4's Mo.
The biopic was also nominated for best TV movie/mini-series but failed to win.
Mo details the politician's battle with cancer as she fought for peace in Northern Ireland. She died in 2005, aged 55.
Writers interviewed former first minster David Trimble and the current Deputy First Minister Martin McGuinness as well as friends and family of Ms Mowlam.
While at the Northern Ireland Office, Ms Mowlam took a major political risk by going inside the Maze prison to talk to prisoners in a bid to restart the peace process.
In 1999, she was replaced as Northern Ireland secretary by Peter Mandelson, and became Tony Blair's cabinet "enforcer" after turning down the job of health secretary. She stood down as an MP in 2001.
Walters has said she nearly pulled out of making the film because she was afraid Mowlam "doesn't look anything like me".
"She was a big woman, she's got a big open face, so I was very scared. But arrogantly, when I read the script, I just said, 'yes'," Walters added.
The International Emmys celebrate TV production outside the US.