Leveson Inquiry: Coogan says he was set up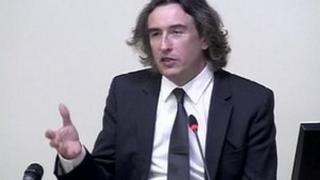 This round-up of Wednesday's main media stories reports on the latest evidence to the Leveson inquiry.
The Guardian says Steve Coogan has claimed at the Leveson inquiry that "lurid" details of his private life were revealed by the News of the World after he was set up in a "sociopathic sting" by former editor Andy Coulson and the paper's ex showbiz columnist. It says the actor and comedian told Lord Justice Leveson at London's high court on Tuesday that a News of the World showbiz columnist agreed not to publish explicit details about Mr Coogan's extra-marital affair in April 2004 if he would confirm less salacious details.
In other evidence from the Leveson inquiry BBC News reports:
Former Blackburn Rovers captain Garry Flitcroft said he believed media coverage of his extra-marital affairs contributed to his father's suicide
Margaret Watson, from Glasgow, said her son killed himself after reading derogatory articles about his dead sister
Mary-Ellen Field, a business adviser to supermodel Elle Macpherson, says she was fired for leaking secrets which were actually obtained by journalists hacking into the Australian star's phone
The lawyer for victims of press intrusion has accused the Daily Mail of launching a "personal attack" on Hugh Grant after its rebuttal of his allegations at yesterday's Leveson Inquiry, reports the Daily Telegraph.
Six adverts for Lynx men's toiletries have been banned in their current form by the advertising watchdog after attracting more than 100 complaints, reports BBC News. The Advertising Standards Authority concluded that the five internet adverts and a poster "were likely to cause serious or widespread offence" for being sexually suggestive.
For those who fear the switch to digital will never bring publishers as much advertising revenue as print, there is good news from the United States. The New York Times reports that The Atlantic magazine is now doing just that: "For any magazine publisher to take in the bulk of its advertising revenue from online sources is incredibly rare. Publishing industry executives said they were not aware of any examples of a brand as prominent as the Atlantic doing so."
Many of Wednesday's newspapers lead with the inquiry into standards of care for elderly people in their homes, as reported in the BBC's newspaper review.