Stephen King nominated for Bad Sex awards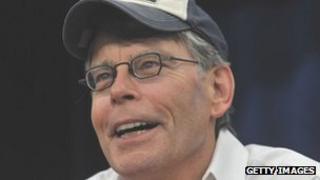 Authors Stephen King, James Frey and Haruki Murakami are among the list of nominees for this year's Bad Sex in Fiction Award.
Horror writer King picked up his nomination for 11.22.63, which featured the line: "She was wearing jeans. The fabric whispered under my palm."
Other shortlisted authors for the prize included Sebastian Barry, Peter Nadas, David Guterson and Jean M Auel.
The winner of the Literary Review event will be announced on 6 December.
A Million Little Pieces author Frey received is included for The Final Testament of the Holy Bible and Murakami was nominated for 1Q84.
David Guterson, Christos Tsiolkas - author of bestseller The Slap, Dori Ostermiller, Simon Van Booy and Chris Adrian complete the list.
The Literary Review said the purpose of the prize was to "draw attention to the crude, tasteless, often perfunctory use of redundant passages of sexual description in the modern novel, and to discourage it".
Last year Rowan Somerville was crowned the winner for The Shape of Her. The award was presented to him by Michael Winner.
The award was created in 1993 by Auberon Waugh.
Previous winners include Norman Mailer, AA Gill, Melvyn Bragg and Tom Wolfe.