International Emmys dominated by UK television shows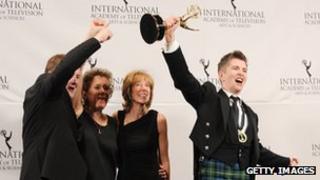 British TV productions have won five awards at the International Emmys in the US, including best actress for Julie Walters.
She was honoured for her Bafta-winning portrayal of Mo Mowlam in Channel 4's Mo, a biopic about the late politician.
Christopher Eccleston was named best actor for his role in Jimmy McGovern's Accused on BBC One, which also won best drama series.
Each episode told the story of a character who ends up in court.
Eccleston played a plumber who found £20,000 in the back of a cab but was arrested after it turned out the money was forged.
Gareth Malone Goes to Glyndebourne won best arts programme.
The series, about a group of teenagers training to star in a new opera for the world renowned Glyndebourne opera house, was produced by Twenty Twenty Television for BBC Two.
Twenty Twenty also won the non-scripted entertainment award for The World's Strictest Parents, which aired on BBC Three.
Lady Gaga made a surprise appearance at the ceremony, which was hosted by actor Jason Priestley at the Hilton hotel in New York.
The pop star presented an honorary prize to American Idol's executive producer, Nigel Lythgoe, another British export.
Gaga said Lythgoe was her favourite TV executive - he returned the compliment, describing her as "the most creatively talented woman in showbusiness right now".
Chile won its first international Emmy for children's programme, What Is Your Dream?
Belgium won best comedy series for Benidorm Bastards, a hidden camera show that follows seven elderly people playing tricks on young people.
Canada picked up the best documentary prize for Life with Murder, about a family torn apart when a 20-year-old is charged with the murder of his 19-year-old sister.
Swedish crime drama, Millennium, won best TV movie or mini-series and Portugal won the prize for best telenovela - a limited-run serial drama popular in Latin American - for Blood Ties.
The International Emmys celebrate TV production outside the US.