Leveson Inquiry: Hugh Grant accuses Mail on Sunday of hacking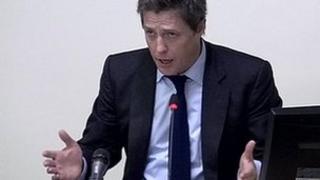 This round-up of Tuesday's main media stories reports on evidence from the first witnesses in the Leveson inquiry.
Hugh Grant has told the Leveson Inquiry into press ethics that the Mail on Sunday may have hacked his phone, reports the Guardian. The actor said he could not think of any other way it could have got its story in 2007 about his conversations with a "plummy-voiced" woman. The newspaper said it "utterly refutes" his claim, which it described as "smears". He also accused the Daily Mail of obtaining "possibly illegal" information about the birth of his daughter from the hospital at which she was born.
The mother of murdered schoolgirl Milly Dowler has described the moment she was given false hope that her daughter was still alive after the News of the World hacked the teenager's phone, reports the Daily Telegraph. It says: "Giving an emotional testimony to the Leveson inquiry into press standards yesterday, Mrs Dowler… said she immediately cried out to her husband: "She's picked up her voicemail, Bob, she's alive."
In a leading article, the Independent says it is not a straightforward question how much celebrities like Mr Grant should be able to control what is written about them: "There is a danger that in seeking to protect individual privacy, the Leveson Inquiry will restrict the public's right to know whether their celebrities are what they appear to be."
A creepy advert for mobile phone giant Phones4u is being investigated by advertising watchdogs after a flood of complaints, reports the Daily Mail. It says "the ad, which features the ghost of a young girl haunting a woman in an underground car park, has been branded too scary for children". The Advertising Standards Authority last night confirmed it has received 341 complaints - the highest number this year.
Images of Milly Dowler's family appear on many of the front pages, as the Leveson Inquiry into press ethics dominates Tuesday's newspaper, as reported in the BBC's newspaper review.