Stallone's Rocky musical to debut in Germany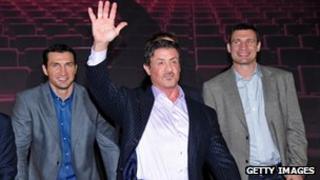 A musical version of boxing movie Rocky, backed by the film's star Sylvester Stallone, will debut in Germany in November next year.
Stallone has teamed up with boxing brothers Vladimir and Vitali Klitschko to bring the film to the stage.
The rags-to-riches tale will include hits from the 1976 film including Gonna Fly Now.
"To see this story coming to life on a musical stage makes me proud," Stallone said.
The stage show is due to begin in Hamburg, while casting has yet to take place.
The New York Times reported earlier this year that it will transfer to Broadway later.
The Klitschko brothers will co-produce the musical with Stallone and train the actors in boxing skills.
"Seeing Sylvester Stallone in Rocky when we were kids actually was the reason for us to start boxing in the first place," said Vladimir, who beat British boxer David Haye in July.
The original Rocky movie spawned five other Rocky films.
It won three Oscars in 1977, including best directing and best picture, beating the likes of All the President's Men and Taxi Driver.