Milly Dowler's parents testify at Leveson inquiry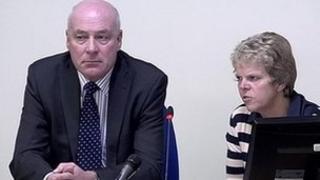 This round-up of Monday's main media stories looks ahead to evidence from the first witnesses in the Leveson inquiry.
The parents of murdered schoolgirl Milly Dowler are expected to give testimony on the impact of press intrusion as the first witnesses to Lord Justice Leveson's inquiry into media standards today, reports the Guardian. Bob and Sally Dowler will give evidence in the High Court, followed by the actor Hugh Grant.
The Financial Times says the press will have to listen as some of its worst excesses are laid bare before the Leveson inquiry that has power to recommend sweeping changes to the way it operates. Ben Fenton writes: "the press, or at least their legal representatives, will be uncharacteristically mute. Lord Justice Leveson has ruled, to save time, that there will be no cross-examination."
The satellite broadcaster BSkyB has appointed outside lawyers to conduct a trawl of the emails of star journalists working on Sky News to ensure there is no evidence of stories being obtained by illicit news-gathering methods, reports the Independent. It says the development, days ahead of the BSkyB annual general meeting, would enable the company to assure its shareholders that the channel is free from the illegal practices uncovered at News International, its largest shareholder.
Peter Preston in the Observer questions the idea "some journalistic practices - such as paying for the information on MPs' expenses, as the Daily Telegraph did, or long-term heavily editorialised campaigns that are common in newspapers - would not be appropriate for the BBC". The statement was put forward by Lord Patten, chairman of the BBC Trust, in a letter to the Guardian.
The Daily Mirror says "dumped Daybreak presenters Adrian Chiles and Christine Bleakley look grim as they face up to being sacked from the ITV breakfast show". It says Chiles mysteriously blamed "dark forces" for leaking the news in Saturday's edition of the paper. He was quoted in The People as saying: "I'm angry, upset and acutely ¬embarrassed. Myself and Christine were told we would be going in the New Year but we were assured we could go with our dignity intact."
The BBC's annual Children in Need show has raised a record on-the-night total of £26,332,334 - £8m more than 2010. Signing off at the end of the telethon, Sir Terry Wogan said: "That is the greatest single total we have ever made in one night, so thank you. Thank you to the British people in these tough times to come up with that kind of money on behalf of Britain's children."
With little more than a week to go until the chancellor's autumn statement, many newspapers focus on the government's plans for growth. The Daily Telegraph and the Independent both give prominence to the coalition's plans to underwrite mortgages for first-time buyers of new homes, as reported in the BBC newspapers review.