Twilight: Breaking Dawn rises to top of US box office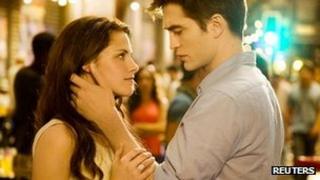 The Twilight Saga: Breaking Dawn - Part 1 has entered the US box office at number one, taking $139.5m (£88.6m) in its first weekend.
But the film fell just short of the $142.8m opening for the franchise's second outing, New Moon, in 2009.
Penguin animation Happy Feet 2 entered the chart at number two, with box office returns of $22m (£13.9m).
But the original movie took nearly twice that in its opening weekend back in 2006.
Dan Fellman, head of distribution at Warner which is behind the film, said: "We honestly feel we'll pick up some steam and play some catch-up as we get into the holidays."
But it faces competition from other family films being released in the run-up to Christmas, including Arthur Christmas and The Muppets.
Immortals, last week's number one, fell to number three with $12.3m (£7.8m).
George Clooney's comedy drama, The Descendants, fared well in its first weekend, despite opening in only 29 cinemas.
It went straight in at number 10 with takings of $1.2m (£764,000), an average of $42,150 per cinema.
Breaking Dawn, opening in 4,061 cinemas, took an average of $34,351 per cinema.
The final film in the five-movie Twilight series, Breaking Dawn Part 2, will be released next year.
The films are based on Stephanie Meyer's best-selling novels.