Arrested Development revived by US channel Netflix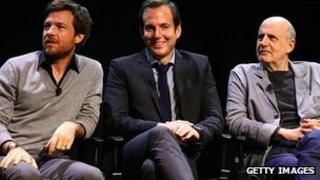 Acclaimed US comedy Arrested Development is to go back into production, TV on demand service Netflix has announced.
The series, about a dysfunctional Californian family, was cancelled by the Fox network five years ago despite winning several Emmy awards.
Last month, creator Mitchell Hurwitz said a film was to be made with several spin-off episodes to follow.
The cast, featuring Jason Bateman and Michael Cera, is expected to reunite.
The show was originally broadcast on Fox between 2003-06 but was dropped because of low ratings.
The antics of the morally challenged Bluth family picked up six Emmy awards and one Golden Globe over its three seasons.
Executive producer, film director Ron Howard, also narrated the series.
Speaking to the BBC in January, he said there was "a real desire on the creative team's part" to work on some new material.
Shooting on the new series is set to begin next summer and will be available to Netflix subscribers in 2013.