Vatican takes legal action over pope-imam kissing ad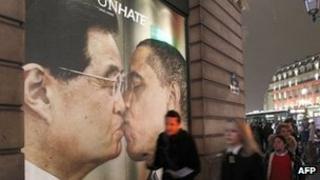 This round-up of Friday's main media stories reports on reactions to the latest "shock advertising" campaign from Benetton.
The Vatican says it is taking legal action over the use of an ad showing Pope Benedict kissing a leading imam as part of a Benetton advertising campaign, reports BBC News. The ad, with its doctored image, is part of a global advertising campaign. It consists of photo montages of political and religious leaders kissing each other on the mouth.
Christina Odone in the Daily Telegraph writes that the Pope can rest easy about the Benetton advertising campaign because the ad men's shock tactics won't work now. "We're on to the advertisers, PRs and Benettons of this world. We're no longer the media ingenues of the Eighties," she says.
The judge in the Stephen Lawrence trial has referred the Spectator magazine to the Attorney General over possible contempt of court, reports BBC News. It says Mr Justice Treacy said he had asked Dominic Grieve QC to consider an article by journalist Rod Liddle, expressing views about the trial. The judge has ordered the jury not to read the article. A barrister and the Spectator's deputy editor later appeared in court to apologise on behalf of the magazine.
The BBC has launched a crackdown on the bad language in the subtitles for the new series of BBC4 Danish drama The Killing, reports the Radio Times. It says this comes after a complaint from a viewer about the first series, which said that relatively mild Scandinavian swear words had been almost exclusively translated into the F-word.
As Prime Minister David Cameron prepares to head to Brussels and then Berlin, the papers scrutinise the ongoing situation in the EU, as reported in the BBC newspapers review.