Henry Moore House of Lords piece to be restored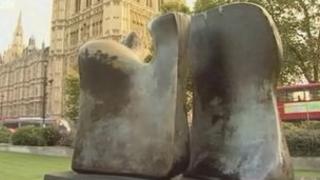 A Henry Moore work opposite the House of Lords will be restored after MPs ruled it should be the responsibility of the Parliamentary Art Collection.
Knife Edge Two Piece on Abingdon Street Gardens was gifted in 1967, but no plans were made for its future care.
It has graffiti on it and an original golden patina has gone black in places.
Commons Works of Art Committee chair Frank Doran MP said it was an important piece "chosen by Henry Moore himself to stand in front of Parliament".
Moore, who died in 1986, said he loved the site "so much that I didn't bother to go and see an alternative site in Hyde Park".
"It is next to a path where people walk and it has a few seats where they can sit and contemplate it."
This, he said, was "unlike the placing of the very fine equestrian statue of Charles I in Trafalgar Square, which, in order to look at closely and appreciate in detail, you have to risk your life in crossing a maze of traffic".
But not everyone appreciated the sculpture, with Conservative backbencher Neil Marten asking in the House of Commons why "this lovely part of Westminster should be littered with something that looks like a crashed unidentified flying object".
Restoration work will begin in early 2012, to be completed in time for the Olympics.
Culture Minister Ed Vaizey MP said the piece, "perhaps one of the most televised works of art in London, is badly in need of some care and attention".