The Killing swearing is toned down in subtitles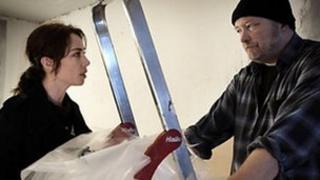 The BBC has asked for swearing in the subtitles of series two of hit Danish import The Killing to be toned down.
That followed a complaint from a viewer that, in series one, softer expletives were translated as the f-word.
In a memo, the BBC asked the outside translation firm to "err on the side of caution and use the less strong word".
Programme acquisitions editor Simon Chilcott told the Radio Times the BBC "did feel the need to rein them in if they are being a bit edgy".
Mr Chilcott said the memo was "a reminder to keep it consistent with the character" and within the context of the original script.
"If there are suddenly lots more uses of the f-word in one episode, we have to check it's consistent with the script and the rest of the series."
Mr Chilcott said the translators' task is "not just a straight translation - it's a rewrite".
"Often a direct translation would be awkward and stilted and would not read well on screen."
Subtitling also has to be to the point, he said, adding: "You can't have too much text."
Radio Times TV editor Alison Graham said she had "spent months priding myself on my ability to swear in Danish", picking up words including "svin" and "faen".
She said she was now disappointed that her usage may have been inaccurate.
The new series of crime thriller Forbrydelsen, or The Killing, complete with English subtitles, will be shown on BBC Four on Saturday night.