Great Expectations: New end penned for Dickens classic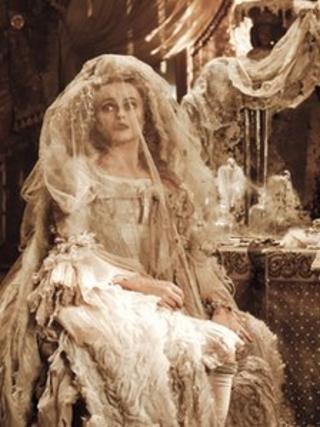 Writer David Nicholls has revealed that he has written a new ending to Great Expectations for his movie "thriller" version of the Dickens classic.
The film, directed by Mike Newell, is currently being shot in the UK and stars Helena Bonham Carter as Miss Havisham and Ralph Fiennes as Magwitch.
Nicholls, the author of hit novel One Day, was speaking at the launch of the BFI's Dickens on Screen season.
He said the ending was "somewhere in between" the two written by Dickens.
The BFI season is described as the largest retrospective of Dickens on film and television ever staged.
It will include David Lean's Great Expectations (1946) and Oliver Twist (1948), as well as rarely seen silent adaptations like Scrooge - or Marley's Ghost (1901) and David Copperfield (1913).
"The David Lean film is a masterpiece and always will be a masterpiece," said Nicholls.
He said Dickens wrote "great action" which had helped influence the new screen version.
"It's very fast moving - with all kinds of twists and turns - so we're very much approaching it as a thriller."
Nicholls added: "What we didn't want to do was impose an anachronistic genre on to Dickens - we didn't want to turn it entirely into a film noir."
He said Magwitch's boat escape scenes were being filmed with Fiennes on Thursday in Kent.
"I'm incredibly excited about the film so far," he said.
"We're halfway through - we filmed Helena Bonham Carter's Miss Havisham scenes over the last two weeks and that was an extraordinary experience."
Other cast members include Jeremy Irvine as Pip, Robbie Coltrane as Mr Jaggers, Sally Hawkins as Mrs Joe, Holliday Grainger as Estella, Ewen Bremner as Wemmick, and David Walliams as Uncle Pumblechook.
Two endings
Nicholls said that turning a 500-page Dickens novel into a 120-minute film had meant leaving some things out.
"In the book, Pip goes to see Miss Havisham 14 times and we wanted to get it down to five times. When Pip goes to see her it's a bit like going to see Hannibal Lecter - it's a real set piece."
He said the new film, out next year, would give a glimpse of Miss Havisham's wedding - not previously seen in movie versions.
The author revealed - to a few gasps in the room - that he had given Great Expectations a new ending.
"Dickens came up with two endings - one which is incredibly bleak and one which is unrealistically romantic and sentimental," Nicholls said.
"Neither are quite satisfactory and we've come up with an ending that isn't in the book - and is somewhere in between.
"It draws on events in the book but takes them in a slightly different direction, but is in no way sacrilegious."
Dickens on Screen is at the BFI Southbank from January - March 2012. The season is part of Dickens 2012, the worldwide celebrations marking the 200th anniversary of his birth.