National Theatre donor Lloyd Dorfman awarded arts medal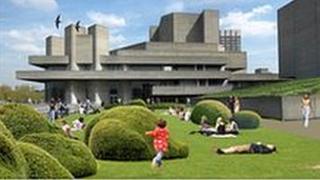 Travelex founder Lloyd Dorfman, who donated £10m to the National Theatre last year, has been awarded the Prince of Wales Medal for arts philanthropy.
Mr Dorfman is one of five recipients of the award this year, honoured for their support of the arts in the UK.
Other recipients include fund manager Jonathan Ruffer who saved a group of paintings by 17th Century Spanish artist Zurbaran in March.
And Lady Marina Hobson, a staunch supporter of the Royal Opera House.
Mr Dorfman has supported a number of arts projects and institutions over the years and it was his decision to support the National Theatre's £10 ticket scheme which launched in 2002.
Director Sir Nicholas Hynter said the scheme has enabled the theatre to, in most years, "present at least one challenging new play, as well as a much more uncompromising repertoire of classical and recent plays than the National had been able to produce for some time".
Mr Dorfman's £10m donation last year - the largest ever made by a private individual to a British theatre - was intended to kickstart the £70m redevelopment of the Grade-II listed Cottesloe Theatre. It will now be renamed in his honour.
'Role models'
Also honoured were Michael and Jean Oglesby, who have sponsored many Manchester arts projects and organisations through their property business, Bruntwood - including the Bruntwood Prize for new plays - and their charitable trust.
The pair also fund three scholarships a year at the Royal Northern College of Music, and the Royal Exchange's education programme that works with young people with autistic spectrum disorder.
Theresa Sackler was the fifth to receive the medal for the work of her and her late husband Mortimer's charitable foundation.
Numerous institutions have been supported internationally with The Guggenheim, the Louvre, and the Metropolitan Museum of Art in New York among those which house Sackler buildings.
Last year, the Sacklers also pledged the largest gift that the Serpentine Gallery had ever received, enabling it to win the contract to establish a new gallery in Kensington Gardens.
"This year's recipients of The Prince of Wales Medal are role models for us all," said Culture Secretary Jeremy Hunt, who announced plans to encourage more art philanthropy.
"This is fitting recognition for their profound generosity over many years and across the entire nation.
"When I see how artists, audiences and our cultural heritage benefit from their support, I am optimistic for the future of philanthropy in this country."
The recipients received their medals from the Prince of Wales at a London ceremony.