Mad Men finale to be set in 2011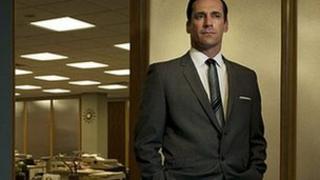 The final series of 1960s period piece Mad Men will be set in 2011 when main character Don Draper is in his 80s, creator Matthew Weiner has revealed.
He said it was about "the experience of human life and human life has a destination", Grantland.com reported.
It must end with "an idea of what it meant and how it's related to you," he reportedly said at an "in conversation" event at Los Angeles' Coronet Theatre.
Four series of Mad Men have been made with three more likely.
"I do know how the whole show ends," he told comic Jeff Garlin.
He said the plan did not mean that womanising advertising executive Don Draper, played by Jon Hamm, would die.
He added that all he wanted to do was "not wear out the welcome" for the show.
"Do I know everything that's gonna happen? No, I don't.
"But I just want it to be entertaining, and I want people to remember it fondly and not think it ended in a fart."
In September, Weiner's New York-based show - which airs on BBC Four in the UK - won the best drama Emmy for a fourth year.
Earlier this year, he signed up for a fifth and sixth season of the show with the option of a seventh.
Season five of the Mad Men will be shown on US network AMC in March 2012.