South Park to continue until 2016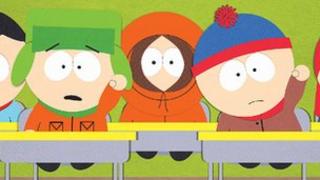 South Park creators Matt Stone and Trey Parker have agreed to extend the hit animation for another three series.
US cable network Comedy Central had originally contracted the pair to write, direct and edit the show until 2013, but it will now run until 2016.
It will take the comedy - cable's longest-running animated series - to its 20th season.
In a statement, Stone and Parker said: "South Park is a blast and we can't wait to make more."
The news comes as the show ends its 15th series in the US.
There had been some doubt as to whether the pair would extend their contract after their success, earlier this year, with their hit Broadway musical The Book of Mormon.
"The collective genius of Matt and Trey knows no bounds," said Michele Ganeless, president of Comedy Central.
"Week after week and season after season they continue to surprise and delight South Park fans. We're thrilled that the adventures of Stan, Kyle, Kenny and Cartman will continue through 2016."
The show - recently voted the greatest animated TV series by Entertainment Weekly - first aired in the US in August 1997.
It has been nominated for an Emmy almost every year since, in the animation category, and has won four times.