Ricky Gervais to host Golden Globes for third time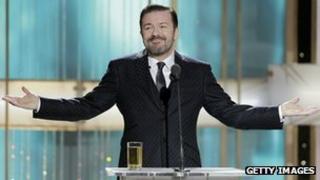 Comedian Ricky Gervais is to host the Golden Globes for the third time, despite causing controversy in the role earlier this year.
The US ceremony, to be held on 15 January, will see honours awarded for performances in film and television.
Organiser the Hollywood Foreign Press Association (HFPA) announced on Twitter that Gervais would be the host.
His last turn as host in January was peppered with jibes at the gathered celebrities and even the HFPA.
The barrage of caustic put-downs left some wondering whether the comedian would perform the role again.
The 50-year-old comedian posted a YouTube clip on his Twitter page on Wednesday of his searing monologue from the 2011 show, promising: "This x 10."
The decision was taken after talks with US broadcaster NBC, which airs the ceremony.
In a statement, the HFPA said: "After weeks of rumours, it's finally official - Ricky Gervais will be back to host the Golden Globes for a third year.
"While many welcome Gervais' return, not everyone is happy with the decision because last year his blunt one-liners targeting big-name celebrities caused anger and resentment in some quarters."
It noted that the comedian, creator of The Office and Extras, had initially dismissed the possibility of presenting the event again amid the furore over last year's show.
The statement said Gervais "gradually warmed to the idea and last month met with HFPA president Dr Aida Takla-O'Reilly in Paris to discuss it".
Gervais's latest comedy series, Life's Too Short, is currently being aired on BBC Two.
It stars Warwick Davis as an actor whose career on the slide and who hopes a reality show will reverse his fortunes.
Gervais and his comedy partner Stephen Merchant appear as versions of themselves in Life's Too Short, whom Davis approaches to get his career back on track.
The show also features cameos from stars including Johnny Depp and Liam Neeson.