Angela Rippon to re-enact Morecambe and Wise dance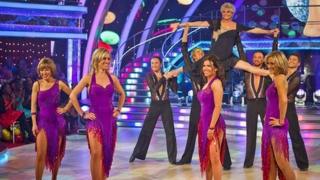 Former newsreader Angela Rippon is to re-enact one of TV's most famous moments for Children In Need, the BBC has announced.
The 67-year-old star will revisit the dance routine she performed with Eric Morecambe and Ernie Wise in 1976.
More than 26 million people tuned in to see the sketch, which was part of the comedians' annual Christmas Special.
Rippon will dance alongside current BBC newsreaders for a Strictly Come Dancing segment on the charity fundraiser.
They will be joined by some of the Strictly professional dancers.
The famous scene saw Rippon emerge from behind a newsreader's desk.
Dressed in top hat and tails, she partnered Morcambe and Wise in a high-kicking ballroom sequence, set to the soundtrack Let's Face The Music And Dance.
For this year's Children In Need sketch, Rippon - who once hosted the forerunner to Strictly Come Dancing - will be joined by Sian Williams, Sophie Raworth, Susanna Reid and Emily Maitlis.
The sequence will begin with them sitting behind their desks wearing geeky glasses, white blouses and pencil skirts, before they launch a raunchy dance routine in purple, glittery leotards.
It will be broadcast during the annual charity marathon on BBC One from 1900 GMT on Friday.