Apprentice star Nick Hewer to host Countdown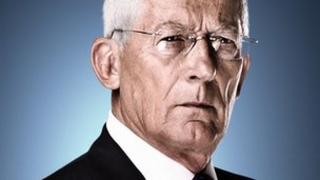 Nick Hewer, Lord Sugar's adviser on BBC One show The Apprentice, has signed up to present the next series of Countdown, it has been announced.
The 67-year-old will replace outgoing host Jeff Stelling and join maths whiz Rachel Riley and words boffin Susie Dent on the show.
Hewer said he was "flattered to have been asked to present such an iconic programme".
He will be seen by viewers on Channel 4 from 9 January.
Stelling announced in May this year he was leaving the quiz show after less than three years in the hotseat to concentrate on his presenting role at Sky Sports.
Hewer has risen to fame since appearing as Lord Sugar's aide on The Apprentice for the past 6 years.
'Unique style'
The former PR consultant said he would "work hard to justify sitting in the same seat as such great talents as Jeff Stelling, Des O'Connor and, of course, the great Richard Whiteley".
"It's particularly fitting that I should be doing this now as my spelling has started to slip quite badly. I used to be able spell chrysanthemum," he added.
Channel 4 chief creative officer, Jay Hunt, said: "Nick will be a fantastically charismatic host for Countdown. He is sharp and funny and has a real twinkle in his eye."
Countdown executive producer Peter Gwyn added: "I can't wait to see him bring his unique style and humour to this iconic format.
"With Nick at the helm and our 30th birthday next year, we've got some very exciting times ahead for Countdown viewers."
Countdown was the first programme broadcast on Channel 4 when it launched in 1982.
It was originally fronted by the late Richard Whiteley. Des Lynam took over as host in 2005 followed by Des O'Connor a year later and then Stelling in 2009.