Michael Jackson headboard withdrawn from auction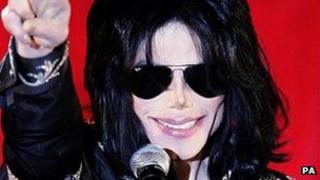 The headboard from the bed in which Michael Jackson died has been withdrawn from auction at the request of his family, Julien's Auctions has said.
The antique furniture piece was among several of the star's belongings which are being sold in December.
"We want to maintain a good relationship with the family and we don't want to do anything upsetting for them," Darren Julien told Reuters.
The auction is scheduled to take place on 17 December in the US.
'Jackson history'
Watercolour paintings, antique furnishings and a chalkboard with a message from one of Jackson's children will all go under the hammer.
Mr Julien told the Washington Post newspaper that Jackson's mattress had never been included in the auction as it belonged to the singer's estate.
"Michael Jackson has played a major part in the history of Julien's Auctions and we would never do anything that is not in the best interests of Michael's children, his mother or the Estate. We will always honour these requests," Mr Julien said in a statement.
"We want all of our events involving items associated with Michael Jackson to be a good experience for everyone and a celebration of his life and career."
Jackson memorabilia has increased in value since the Thriller star's death in 2009.
Previously unseen footage of the King of Pop's 1993 concert tour is due to go on sale in London this month.
Auctioneers Fame Bureau say the footage, which was filmed during Jackson's Dangerous tour, could fetch up to £3.8m.
Jackson was apparently unhappy with the quality of footage and gave the only copy to his driver, who is now selling it.
"It's a film that's frighteningly personal and up-close," said Ted Owen from Fame Bureau.
"It's like you're on stage with Michael Jackson".
Earlier this month Jackson's doctor, Conrad Murray, was found guilty of the involuntary manslaughter of the singer.