The Devils set for first official DVD release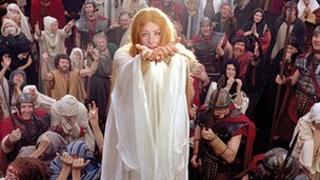 Director Ken Russell's controversial 1971 film The Devils is to be officially made available on DVD for the first time, it has been announced.
The film, which contains sexual content and religious imagery, will be released in March by the British Film Institute's (BFI) video publishing arm.
Starring Oliver Reed and Vanessa Redgrave, the movie was cut before it could be given an adult 'X' rating.
Film critic Mark Kermode has called it Russell's "most incendiary work".
He added it is "an extraordinary and impassioned depiction of the unholy marriage of church and state which is as relevant today as it was when the film was first released".
The BFI said that the DVD release - the original version certified for cinemas - will contain extra content and special features and will be available from the usual home film retailers.
The Devils, which depicts the hysterical ferment that swept through a French convent in the 1600s, contained depictions which were considered shocking at the time.
Scenes which were deleted before the UK film censors would issue its toughest certificate included naked nuns assaulting a statue of Christ.
This sequence was restored in 2004, but will not appear in the DVD release.
The film, however, was feted abroad, earning Russell an award at the Venice Film Festival - even though it was banned at the time in Italy.
The film-maker was also honoured at the National Board of Review in the US, where the movie censor had imposed more wide-ranging cuts than in the UK.