Booker-winner Julian Barnes makes Costa Book shortlist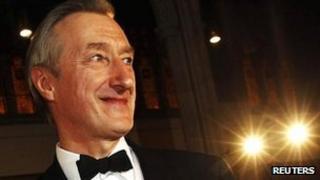 Julian Barnes has been shortlisted for the Costa Book Awards, just weeks after winning the Booker prize.
The Sense of Ending, which is a brief 160 pages, is shortlisted in the novel category alongside books by Andrew Miller, John Burnside and Louisa Young.
Poet Laureate Carol Ann Duffy is among five poetry finalists for her latest collection, The Bees.
The category winners will be announced on 4 January, while the overall honour is revealed in London on 24 January.
Each individual winner receives £5,000, while the main prize comes with a cheque for £30,000.
This shortlist for this year's biography category includes 2002 winner Clare Tomalin for her work on Charles Dickens.
Her competitors include first-time biographer Matthew Hollis and father and son Patrick and Henry Cockburn.
Patrick recounts the story of his son Henry's diagnosis of schizophrenia at the age of 20 and how his life and his family have been affected by the illness.
Among the first-time novelist hopefuls is Patrick McGuinness, whose story The Last Hundred Days is about a British student working in Romania towards the end of Nicolae Ceausescu's paranoid and despotic regime.
The awards' fifth category is children's books, which this year features writers including Martyn Bedford and Moira Young, in the running with her first work Blood Red Road.
Last year's overall Costa Book Award went to poet Jo Shapcott for her collection, Of Mutability.
It was the seventh win for the poetry category. The novels category has produced the most winners, nine in all.
First novels have won on four occasions, biographies have secured five wins - with only one win for a children's book.
Previous recipients of the honour, which was known as the Whitbread Book of the Year from 1985-2005, have featured Kazuo Ishiguro, Seamus Heaney and Ted Hughes.