New evidence suggests wider extent of phone hacking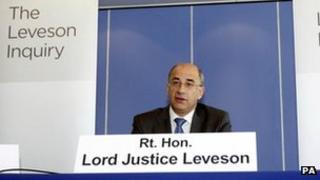 This round-up of Tuesday's main media stories reports on the first day of the Leveson Inquiry into the culture and ethics of the press.
Police have uncovered new evidence that phone hacking was endemic at Rupert Murdoch's News International until as recently as 2009, reports the Independent. It says it was "part of a 'thriving cottage industry' of lawbreaking that involved 'at least' 28 of the company's employees, the Leveson Inquiry was told yesterday."
BBC News adds that notebooks belonging to private detective Glenn Mulcaire suggest he hacked phones for the Sun, the Daily Mirror and the News of the World. Lord Leveson also warned newspapers not to victimise inquiry witnesses who speak out against press intrusion.
Kenneth Clarke, the Justice Secretary, has warned that newspapers must not "underestimate the crisis of confidence" that the press faces in the wake of the phone-hacking scandal, reports the Guardian. But, the paper points out that, speaking at the Society of Editors Conference, he said the media should not become "paranoid" about the changes required because nobody is seriously "threatening the freedom of the British press" with heavy-handed reform.
The new chairman of the Press Complaints Commission, Lord Hunt, has "to find a way of convincing politicians, the public and Lord Justice Leveson's inquiry team that the PCC should be preserved" writes Roy Greenslade in the Guardian. The former Conservative cabinet minister told him: "I have arrived with a blank piece of paper. The one message I want to get across is that I'm listening."
Dr Who is to be taken to the big screen by Harry Potter director David Yates, reports BBC News. A BBC spokesman said: "The project is unlikely to reach cinemas for several years and as yet there is no script, cast or production crew in place."
The Guardian draws on a think tank study that suggests Britons believe the UK is "the second-worst country in Europe to live and work in" and other papers say the continuing crisis in the eurozone has dented hopes of a recovery, as reported in the BBC's newspaper review.