Sir Terence Conran 'gave away fortune'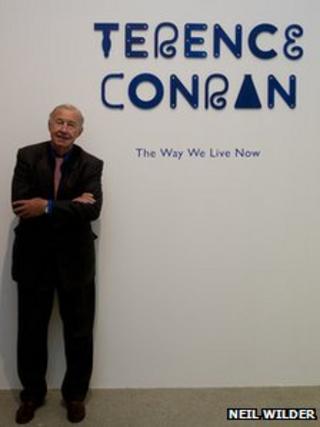 As a new exhibition opens to mark his 80th birthday, Sir Terence Conran says he does not have a vast fortune to show for his 60-year design career.
Despite being credited with transforming the British way of life through his design, Sir Terence says he has "worried at times" that he has not made enough money, in an interview with Radio 4's Front Row programme.
He says he has given a lot of his fortune to the Design Museum, which he founded.
"I've given £50m since it started as the Boilerhouse in the V&A, and recently given quite a lot more money, so I'm not sitting on a large amount of capital, unfortunately."
But he says he had no regrets about investing in the museum because he "believes fervently... that design adds quality to life and that things that are intelligently designed make people happier and they have a better life because of them".
The Design Museum's exhibition explores Sir Terence's impact on contemporary life in Britain.
It traces his career through his work in design, architecture, publishing and business.
Sir Terence says he has enjoyed being reminded of his achievements.
"I'm very pleased the people are doing the looking back for me, rather than me do it myself.
"I saw things there (in the exhibition) that reminded me of things in a good way. Some of my sister's photographs in particular made me remember things from my teenage years quite well."
Sir Terence started work in the 1950s on the Festival of Britain after attending Saint Martin's College of Art and Design and says as a child he was always making things.
"My parents gave me a little workshop at home and I even went as far as having a pottery wheel and kiln built in the garden. Design and making to me are one thing."
He founded Habitat in 1964, which transformed the British high street in the 1960s and 70s by making modern design accessible to everyone.
The exhibition features a wide range of his designs that fulfil his criteria of being "wantable and liveable, plain, simple and useful".
He says his design style has always been what "my gut told me".
"What I liked myself and what my friends liked, were very much to do with how I've shaped my design life, and what I've seen in other countries," he says.
He credits a trip to France in 1952 with having the most influence on him.
"We drove down the west coast of France and I saw markets and quincailleries, which are ironmonger shops, and I found them quite inspirational.
"And that became for me a way of life that was infinitely preferable to what I was finding in the UK at that time, which was spam sandwiches.
"When I saw the way the French were living in their market towns, it was so different.
"The markets were piled high with fresh fruit and vegetables, cheeses, fish and charcuterie, and I thought: 'Why can't we be like that in this country?'. It gave me a guide to what I could aim for."
Sir Terence says there was no grand plan but "seized opportunities" as they came along, but his "great ambition" was always to design things for the high street.
Looking back he admits one regret was merging his company Habitat with BHS.
"I discovered that they didn't entirely buy all the ideas we had for revitalising BHS. Wonderfully we now have Marks & Spencer as a design client, so at long last my ambition has come true."
He left Habitat and in the 1990s built up another group of companies in design, retailing, restaurants and hotels.
He is still a restaurateur and designs furniture for Content by Conran and Benchmark and is currently the provost of the Royal College of Art.
He has written more than 30 books on design, selling more than 20m copies.
And he says he has no plans to stop working and is looking forward to other projects.
"I'm aghast at the quality of housing in this country," he says.
"I think there is a huge opportunity for architects to build good modern housing for the mass market and for individuals. If you go to the average housing estate they almost seem to be trying to recreate Tudor times, it's absurd.
"I've always been a proponent of open-plan living, when I look at the plans of many housing estate houses they're tiny, like an egg crate. A sense of space is a great luxury in the 21st Century."
Terence Conran: The Way We Live Now is on now at The Design Museum. Listen to his interview on BBC Radio 4's Front Row on the BBC iPlayer.