Meryl Streep film The Iron Lady wows British critics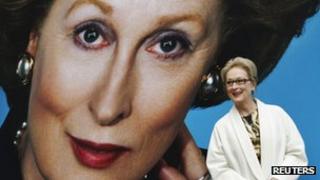 US actress Meryl Streep has put in a fine performance as former British Prime Minister Margaret Thatcher in The Iron Lady, according to early reviews.
The Times' Kevin Maher said of the new film: "Streep has found the woman within the caricature."
David Gritten at The Telegraph said: "Awards should be coming Streep's way; yet her brilliance rather overshadows the film itself."
The movie trailer came out on Monday - The Iron Lady is released on 6 January.
The Guardian Xan Brooks said Streep's performance "is astonishing and all but flawless".
He added: "Yet Streep, it transpires, is the one great weapon of this often silly and suspect picture."
The film has been written by Sex Traffic's Abi Morgan, who also wrote BBC drama The Hour and is directed by Mamma Mia's Phyllida Lloyd.
The Daily Mail also praised Streep's portrayal.
Critic Baz Bamigboye wrote: "Only an actress of Streep's stature could possibly capture Thatcher's essence and bring it to the screen.
"It's a performance of towering proportions that sets a new benchmark for acting."
The film follows Baroness Thatcher from her early years breaking through class and gender barriers to become prime minister to her political downfall in 1990.
The Iron Lady also stars Jim Broadbent as her husband Denis Thatcher and Richard E Grant and Anthony Head as cabinet ministers Geoffrey Howe and Michael Heseltine.
The Thatcher era from 1979 to 1990, was a time of social and economic change for Britain.
Elected following a period of widespread strikes, dubbed the winter of discontent, Lady Thatcher and her Conservative government embarked on tough reforms to tackle inflation and the trade unions.
Her policies divided the country - seeing a boom in the service sector and home ownership but a decline in manufacturing and soaring unemployment.