Appeal to 'save' Charlotte Bronte treasure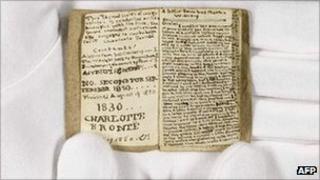 A museum dedicated to the Bronte sisters has launched an appeal for funds to buy a "lost" Charlotte Bronte manuscript and put it on public show.
Young Men's Magazine Number 2 is valued at up to £300,000 by Sotheby's.
The Bronte Parsonage Museum, based in the literary family's home in Haworth, West Yorkshire, already has four of the other five volumes in the series.
It is "the most significant manuscript to come to light in decades", museum director Andrew McCarthy said.
The 4,000-word miniature magazine was written by Charlotte at the age of 14 and contains stories set in Glass Town, a fantasy world created by the sisters and their brother Branwell.
It has never been published and is considered to be important for the light it sheds on Charlotte's literary development. It is being sold by a private European collector.
"It's certainly the most significant Bronte manuscript to come to light in decades, but we should also see this as a national treasure with significance to our broader literary heritage," Mr McCarthy said.
"It would be very sad indeed if this wonderful manuscript was not repatriated or was again lost to a private collection.
"We feel very strongly that it belongs here in Haworth and we're appealing for people to get in touch if they can help us raise the funds to make sure it does return."
Mr McCarthy added: "It's very difficult for us to compete in a market where these items can fetch such high prices and we need the support of organisations and individuals to make sure that they are returned to Haworth."
One story in the manuscript is a precursor to the famous passage in Jane Eyre in which Mr Rochester's insane wife, who is kept in the attic, seeks revenge by setting fire to his bed curtains.
The hand-written magazine will be auctioned by Sotheby's in London on 15 December.