David Suchet to star in final Poirot adaptations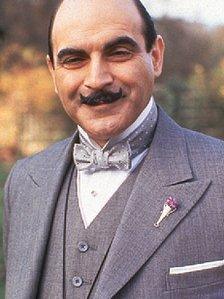 David Suchet is to star in ITV's final five films based on Agatha Christie's Belgian sleuth, Poirot.
The actor has played the character for the past 22 years starring in 65 films.
The new films, based on the remaining Poirot novels and short stories which have yet to be adapted, will begin production next year.
It includes Curtain, which is the detective's last tale and sees him return to the scene of his first case in a bid to prevent another murder.
Suchet said: "I'm more than delighted to be reprising my role as Poirot. It's been my life's ambition to bring this amazing canon of works to completion.
"Poirot is a brilliant, yet profoundly complicated character and I've always loved playing him.
"He's considerate, with a love of elegance and precision, but he is also so maddeningly frustrating to play as he's so vain and pedantic! For all his faults he is one of the greatest listeners in literature. I've been so fortunate to play him."
The other four films will be Labours of Hercules, Dead Man's Folly, The Big Four and Elephants Can Remember.
Mathew Prichard, chairman of Agatha Christie Limited and the author's grandson, said: "It is tremendous to renew our partnership with ITV and David Suchet as Poirot, and these five films will be a magnificent climax to over 20 years of David's portrayal of Hercule Poirot."
ITV's Michele Buck added: "We can promise the final five Poirot films will be a fitting tribute to a much-loved literary character.
"When the ending comes it'll be very dramatic and incredibly emotional. We've been on a remarkable journey with Poirot."
Clocks, the most recent Poirot film to be made, will be broadcast on ITV this Christmas and features Phil Daniels, Jaime Winstone and Lesley Sharp among the supporting cast.
It also features award-winning actress Anna Massey, who died earlier this year, in one of her final roles.
Meanwhile, ITV has also commissioned three new Miss Marple films starring Julia McKenzie as the spinster sleuth.
A Caribbean Mystery will be the first film to be shot during the summer of 2012 with two further films Endless Night and The Seven Dials Mystery produced during the autumn of 2012.
Related Internet Links
The BBC is not responsible for the content of external sites.