London 2012: Arts Council England and the BBC create digital arts media service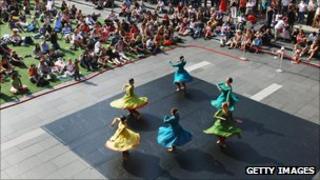 Arts Council England and the BBC are hoping to change the way people connect with and experience arts and culture by launching a project called The Space.
The experimental digital arts media service and commissioning programme runs from May to October 2012.
The project will challenge artists, arts and cultural organisations to work with each other and partners on a range of different cultural experiences.
It will also draw on the quality of next year's Olympic summer of arts.
The Arts Council is putting in up to £2.5m from its strategic digital innovation funds, which will be used to commission grants to create work to be shown in The Space.
The BBC will contribute substantial support, including the technology which will allow arts content on to the four main digital media platforms of personal computer, mobile, tablet and connected TV.
The Corporation will also mentor successful applicants through the creative process.
As well as newly-commissioned programmes, the service will also include live broadcasts and show some of the best archive content from the Arts Council and BBC archives.
Alan Davey, Chief Executive of Arts Council England, said: "What's really exciting about The Space is that it will provide a communal playground for arts and cultural organisations, for technology wizards, and for audiences - anyone who's open to new ways to connect with culture - to come in, to be creative, and to feed back about their experience."
BBC Director-General Mark Thompson said: "Partnership lies at the heart of our vision for the BBC, and our partnership with Arts Council England is one that we value greatly.
"The launch of The Space demonstrates our shared commitment to bringing great art to all, building on the BBC's great history of technical innovation and the Arts Council's ability to energise the arts world."
Members of the public have until 9 December to submit expressions of interest and a number of them will be invited to submit a full application.