Jim'll Fix It returns to BBC One for Christmas special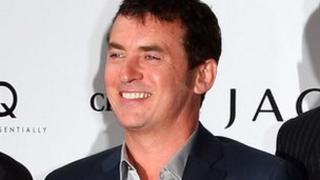 A one-off special of Jim'll Fix It will be screened on BBC One this Christmas, it has been announced.
The show, presented by the late Sir Jimmy Savile between 1975 and 1994, granted the wishes of young viewers who were then given medallions bearing the words 'Jim fixed it for me'.
The special will be hosted by EastEnders star Shane Ritchie who has called it "compulsive television".
Sir Jimmy died in October and was buried last week in Scarborough.
He was laid to rest in a gold-coloured coffin after lying in state in his hometown of Leeds.
BBC One controller Danny Cohen said: "I think it will be a great tribute to Jimmy to recreate his famous show as a Christmas treat for audiences."
'Compulsive TV'
Some of the famous "fix its" include the group of cub scouts who were sent to eat a packed lunch on a rollercoaster at Pleasure Beach Blackpool, and the young viewer who played drums with Adam and the Ants for a performance of their track Kings Of The Wild Frontier.
In 2007, the show was revived by broadcaster UKTV Gold and revisited some of the moments from past series, including the grown-up former scouts.
Shane Ritchie said: "It was compulsive television in our house and all my friends would talk about the 'fix its'."
He added: "I even wrote in but wasn't one of the lucky ones! I'm honoured to be part of this Christmas Special and salute Sir Jimmy and fix it for a new generation."
Hopefuls who want to take part in the show should be 14 years old and under and can apply by sending their wish to fixit@bbc.co.uk.
The closing date for entries is 25 November.