Immortals tops North America box office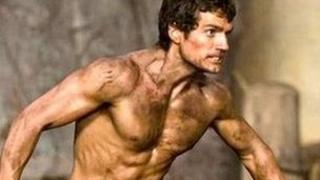 Action movie Immortals, the story of Greek hero Theseus, has topped the North American box office, taking $32m (£20.1m) in its opening weekend.
The film, starring British actor Henry Cavill - who will star as Superman in Man of Steel - beat Adam Sandler comedy Jack and Jill into second place, with debut takings of $26m (£16.3m).
3D animation Puss in Boots dropped to three after two weekends at the top.
Drama J Edgar, starring Leonardo DiCaprio, opened in fifth.
The Clint Eastwood film, starring DiCaprio as the late FBI chief J Edgar Hoover, opened with $11.5m (£7.2m), according to studio estimates.
Some 75% of people who watched the film were under 35 while 60% were male, according to studio Relativity Media.
Kyle Davies, president of worldwide theatrical distribution for the studio, said "people were concerned action fans were staying away from the cinema".
"They definitely came out in force for Immortals," he added.
Action comedy Tower Heist, starring Ben Stiller and Eddie Murphy, was at number four in its second week of release, taking $13.2m (£8.3m).
Hollywood.com analyst Paul Dergarabedian said it was "one of the first weekends we've seen in a while that had a nice combination of films that gave us a really solid weekend".
"To me, this is what the holiday season is all about, having films like Immortals in the mix in the top five with a drama like J Edgar."
A Very Harold & Kumar 3D Christmas dropped three place to six while Justin Timberlake and Amanda Seyfried sci-fi thriller In Time dropped two places to seven.
Paranormal Activity 3 was at eight, remake Footloose was at nine and robot boxing film Real Steel, starring Hugh Jackman, was at number 10.