Press regulation poses a real danger, says Patten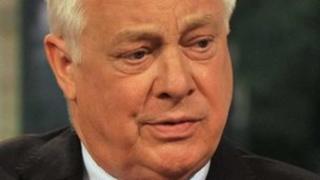 Statutory regulation of the press would "pose a real danger," BBC Trust chairman Lord Patten has told the Society of Editors conference.
Speaking before the Leveson Inquiry into press ethics after the tabloid phone hacking scandal, he said: "Only the press can reform the press."
Tabloids' "vigour is an important part of the liveliness of our democracy," he added.
He also said alleged criminality by News of the World was "indefensible".
In a wide-ranging lecture, entitled Ethics and Journalism after the News of the World, he decried "the sort of criminal behaviour that, it is alleged, was institutionalised at the News of the World".
But he said: "I have no wish to turn our tabloids into trimmed down versions of The Church Times."
However, he maintained that the sort of regulation imposed on broadcasters - via Ofcom, and the BBC Trust - "would not work for newspapers".
'Not snobbish or squeamish'
"There is a kind of symbiosis between the BBC and the press. We do different but complementary things," said Lord Patten.
"The BBC depends on the press for some of its news agenda and it gives some stories back to the press to pursue further," he added, referring to the MPs' expenses scandal and the ongoing investigation into phone-hacking.
"The style of the tabloids is not something we could or should try to match. But nor should we be snobbish or squeamish about it."
He said: "Free speech... would truly be damaged if a single group of people, beholden to and perhaps even appointed by politicians, were to have the power to decide what should or should not be published."
However, he urged newspapers to find a way to re-establish trust with the public.
"It is particularly important because newspapers have played, and continue to play, a fundamental role in our democratic life," said Patten, who called for some kind of self-regulatory code of behaviour akin to the Hippocratic Oath.
The former cabinet minister was at pains to praise the large numbers of journalists "not least in the local and regional press, who are doing an honest job without any great reward".
But, he cautioned: "Like free markets, freedom of speech can produce harmful effects if it is completely unlimited."
"It's not helpful if newspapers cite 'free speech' as a blanket justification for every story, every intrusion, every piece of celebrity tittle-tattle, no matter what the circumstances."