Where are the new music megastars?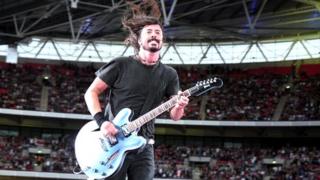 There are more young songwriters in the UK than ever before, so why are all the biggest live acts over 40?
It's called the YouTube boom. The number of registered songwriters in Britain has topped 83,000. That's a 62% increase in just five years.
They are performers like Birdy, a 15-year-old schoolgirl who was introduced to a song by her aunt, recorded her own version, posted it online and then found that six million people had watched it.
She now has a two album deal with Atlantic - home to stars like Bruno Mars, James Blunt and Flo Rida - but it's a tough market for new artists.
Britain's Performing Rights Society (PRS), which collects royalties on behalf of songwriters and musicians, says there is a crisis brewing.
The number of young performers breaking through in terms of album sales is down by 30% compared to 2009, it says.
The industry is increasingly relying on aging heritage acts and failing to turn this huge resource of young songwriters into stars who will actually make money in the long run.
PRS chief economist Will Page says: "You've had an explosive growth in live music to the point where it's outselling recorded (music) for the first time in modern history.
"I think it's right to point out the imbalance of heritage bands dominating that music sector and ask the question who's going to be selling out the stadiums and festivals in 2025?"
That is exactly what Birdy would like to be doing.
"I hope to be getting my own music out there and travelling round the world playing huge concerts, because that's what I love - performing," she tells the BBC.
But the chances are getting smaller every year, says Elliot Kennedy - a music producer, songwriter, and this year's X Factor talent director.
"It's incredibly shortlived," he says. "Many artists aren't surviving more than 12 months".
Unsustainable
"It was Bryan Adams who told me he didn't have a hit until his third album.
"Think about that. That's a huge investment. Nowadays, if you don't have a hit with your first single you're dropped. It's over."
The problem, he says, is that there are thousands of young people who can sing but "an artist is someone who has transcended from being able to sing into being a 'singer'.
"It takes a long time to graduate to that status, to know what you're doing, to relate to people, to be sustainable."
There are, of course, exceptions to the trend of high turnover pop acts. Brit award winners Elbow did not achieve success until their fourth album The Seldom Seen Kid, for example.
But the market is increasingly cut-throat, and bands are being allowed to fade out when they should be at their commercial peak.
The situation is highlighted in a study by Deloitte of the biggest selling live acts in America over the last 10 years. Forty per cent of the bands had a lead singer who was 60 or over. Only one act in the top 50 was in her 20s, and that was Britney Spears. A stunning 94% of the top 20 was aged over 40.
The problem, according to PRS economist Will Page, is the collapse of the record market. Established bands can easily make money from touring but new acts used to rely on income from albums and CDs to fund a tour and build up their fanbase.
"What you're seeing now is fewer labels are willing to give tour support because fewer fans are willing to buy the CD. Hence it's tougher for bands to get on the road and develop a fanbase and become the heritage acts of the future."
That decline in album sales for new acts is marked.
In the five years to 2009, about 25 homegrown acts in Britain managed to break the 100,000 sales barrier every year. Last year it was down to 17.
This year the total has reached 16 and, of those, two of those are new bands led by Oasis's Gallagher brothers. Not exactly new, youthful, emerging talent.
In a presentation to Britain's top music venues, PRS said 2010 had already seen a 7% drop in live revenues, with a shortage of big names touring.
The Society says this will only get worse in years to come as the "classic rock" generation head into old age.
Rock music's biggest earners are approaching their twilight years. "Who," asks Will Page, "is investing in the heritage acts of tomorrow?"