Sweeney Todd returning to West End stage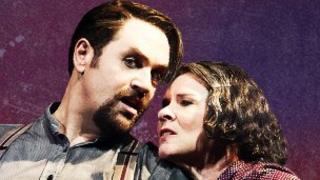 A hit production of Sweeney Todd - The Demon Barber Of Fleet Street is to transfer from Chichester Festival Theatre to London's West End next year.
The musical will play at the Adelphi Theatre, just one mile from Todd's fictional Fleet Street barber shop.
Stars Michael Ball and Imelda Staunton have received rapturous reviews for their interpretation of the Stephen Sondheim musical.
Six national newspapers gave the production a five star rating.
First staged in 1979, Sondheim's musical tells the story of Benjamin Barker, alias Sweeney Todd, who vows revenge after a judge rapes his wife, leading to her suicide.
When he fails to murder the judge, he slowly turns into a serial killer, murdering patrons of his barber shop by slitting their throats with a razor.
His landlady, Mrs Lovett, becomes complicit in the scheme, using the flesh of his victims as fillings in her meat pies.
Tim Burton's 2007 film of the musical, starring Johnny Depp and Helena Bonham Carter, was nominated for three Oscars.
Staunton, herself an Oscar nominee for Vera Drake, plays Mrs Lovett in the current stage production. The Sunday Express called her performance "a comic triumph".
"Michael Ball is an unexpected revelation as Sweeney," it added, "not just because he is virtually unrecognisable (only his trademark dimples give him away) but because he also dares to appear so relentlessly unsympathetic".
The Times compared Ball's performance to King Lear or Oedipus. "Honestly. It's that good," wrote critic Libby Purves.
The Chichester production, directed by Jonathan Kent, wrapped up on 5 November.
The London production will preview from 10 March and is initially booking for six months.