Ashton Kutcher steps back from Twitter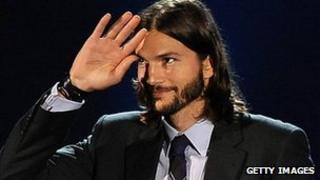 US actor Ashton Kutcher has handed control of his Twitter account to his management after his tweets about a sex abuse case.
Kutcher, 33, who has eight million followers on the site, defended sacked American football coach Joe Paterno.
Paterno, who coaches a university team, had failed to tell police that his assistant was alleged to have sexually assaulted a young boy in 2002.
Kutcher said that he felt "awful" about his error.
The actor, who recently replaced Charlie Sheen in the hit US TV series Two and a Half Men, asked: "How do you fire Jo Pa? As a Hawkeye fan I find it in poor taste".
He removed the tweet after it was pointed out the circumstances surrounding Paterno's dismissal.
Paterno's retired former assistant Jerry Sandusky has been arrested and charged with 40 counts of sexual abuse of young boys over a 15-year period.
Although Paterno has been not been charged with a crime, he has been criticised for not contacting the police when informed of the allegations in 2002.
One Kutcher follower tweeted: "With eight million followers, you may want to reserve your opinions until you know the whole story."
Kutcher replied: "Agreed."
In a more recent post, Kutcher said: "As an advocate in the fight against child sexual exploitation, I could not be more remorseful for all involved in the Penn St. case.
"As of immediately I will stop tweeting until I find a way to properly manage this feed. I feel awful about this error. Won't happen again."
Kutcher's management team said they would take control of his Twitter account "as a secondary editorial measure to ensure the quality of its content".