Return To Ribblestrop wins children's book prize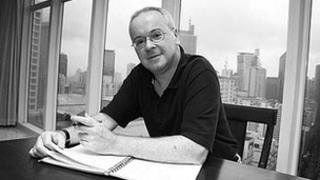 Author Andy Mulligan has won the Guardian Children's Fiction Prize for his novel Return To Ribblestrop, set in a dilapidated boarding school.
The book is the second in a planned trilogy, and finds the school invaded by a truck load of circus animals.
Judges said the story had "just the right combination of warmth, originality and, above all, hilarity to give it the edge".
Mulligan's win ranks him alongside Philip Pullman and Jacqueline Wilson.
Other novelists to win the award include Anne Fine, Meg Rosoff and Patrick Ness.
'Politically incorrect'
The judging panel praised Return To Ribblestrop's "huge cast of unusual and big-hearted characters" and the "strong streak of total anarchy" that runs through the book.
Accepting his prize, Mulligan said he had been convinced no-one would understand the book as he wrote it.
"It is very hard to take yourself seriously as a writer when you've always written for fun. You don't really expect what you write to connect with people the way other writers have connected with you.
"I never expected the Guardian to award such a stonker of a prize to a book that is dangerous, violent, irreverent, politically incorrect, joyously sentimental, anti-adult, pro-child and sometimes bizarre - but I'm very glad they have," he added.
The Ribblestrop series is packed with unconventional characters, including Sanchez, a Colombian gangster's son hiding from kidnappers and Millie, an excluded arsonist and self-confessed wild child
The second book opens with a tongue-in-cheek children's guide to hitch-hiking, in which Millie becomes stranded on her way back to school.
Mulligan describes his setting as "a magical place" but dismisses any comparisons to JK Rowling's Harry Potter.
"Any elf would be stamped on and barbecued very quickly," he says.
"It's magical because the children are self-sufficient, and in the absence of imposed disciplines, create their own."
According to his official biography, the author worked as a theatre director for 10 years before retraining as a teacher.
Mulligan wrote the first two Ribblestrop novels while continuing to work as a teacher, but is taking a sabbatical to work on his next novel.
Meanwhile, another of his earlier books - the critically acclaimed thriller Trash - is being turned into a film, with Four Weddings writer Richard Curtis taking charge of the screenplay.
The other books shortlisted for this year's prize were My Name Is Mina, by David Almond; Moon Pie, by Simon Mason and Twilight Robbery by Frances Hardinge.