Lawyer disputes James Murdoch's evidence to MPs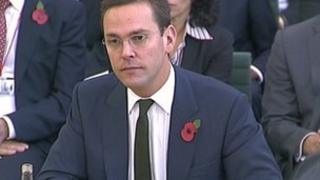 This round-up of Friday's media stories reports on James Murdoch's evidence to the culture, media and sport committee, and the responses.
A former News International lawyer has accused company chairman James Murdoch of giving "disingenuous" evidence to an MPs' inquiry into phone hacking, reports BBC News. It says Mr Murdoch insisted he did not know until recently that the illegal practice went beyond a lone reporter at the News of the World. But Tom Crone said he had made Mr Murdoch aware of the paper's wider involvement in hacking three years ago.
The Guardian says James Murdoch was embroiled in a "rancorous war of words" with two of his former senior News of the World executives after he told MPs during a "marathon questioning session" that they had failed to tell him the truth about the scale of phone hacking at the paper and had misled parliament.
The Daily Mirror says James Murdoch was accused of acting like a Mafia boss during a bruising exchange with MPs.
The Daily Telegraph reports that James Murdoch refused to rule out closing the Sun, if the phone-hacking scandal should spread to that paper.
So where do we stand now after James Murdoch's evidence? In my BBC News analysis I ask what shareholders in BSkyB will make of his performance.
Alan Rusbridger, editor-in-chief of the Guardian, which exposed the phone-hacking scandal, has set out a way forward for newspaper regulation, as Lord Justice Leveson starts his inquiry. The Guardian says that giving the Orwell Lecture last night, he suggested the Press Complaints Commission could be reconstituted as a mediation service to resolve disputes, alongside a new regulator with teeth.
There is no shortage of warnings in the papers about the perilous state of the eurozone and the implications for the UK economy, as reported in the BBC's newspapers review.