Al Pacino: Why I love Oscar Wilde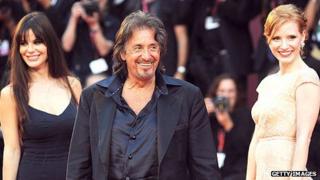 Al Pacino says a chance visit to a theatre in London first inspired him to tell the story of Oscar Wilde which he has made into the award-winning drama documentary, Wilde Salome.
Al Pacino did not even know Oscar Wilde had written a play called Salome when he went to see his friend - the actor, writer and director Steven Berkoff - at a London theatre.
Berkoff was playing the role of Herod and Pacino soon became gripped by the unfolding story of inevitable tragedy.
"All during the play I wanted to know who the writer was because I felt connected in a way to something that I hadn't been connected to in a long time of going to the theatre," said Pacino.
"There is nothing recognisable in the play - nothing 'Wildean'. It is like a new playwright."
It was only when he looked down at his programme that he realised who the author was.
Terrible revenge
Salome tells the story of the stepdaughter of the tetrarch Herod Antipasm who falls for the prophet Jokanaan (John the Baptist) who has been imprisoned. When Jokanaan spurns her, she demands his head on a silver plate.
In order to secure her terrible revenge she exploits Herod's love for her by promising to dance for him if he promises to grant her a wish. It is only after the dance that she tells Herod what her wish really is and he feels forced to keep his promise.
Pacino was so taken by the story he decided to put on his own production, star in it and make a film about the story and Oscar Wilde. Al Pacino plays Herod.
He recalls an early part of the project, at a reading of the play, when the audience became engrossed with the tragic story in much the same way he had.
"There is something in the play that mesmerises, keeps you attentive even if you don't like it. You know you keep saying I don't like it but I have got to keep watching it," he said.
Pacino went on to visit London, Paris, New York and Dublin to learn about the author, along with the film's producer Barry Navidi.
"Every piece of the DNA of Al Pacino is in the movie," said Navidi. "It is Al Pacino's journey, his obsession and his passion, his journey through the layers of the Salome documentary and of course Oscar Wilde."
Seduction, temptation and death
Oscar Wilde's grandson Merlin Holland said: "It is a prophetic play in a very strange sense in that it is easy to draw parallels between the plot of Salome and Oscar Wilde's life."
As Herod is tempted by Salome, so Wilde was manipulated by the young Bosie Douglas, after Douglas's father accused Oscar of being a homosexual.
"Bosie then says to Oscar Wilde, 'I want the head of my father on a charger'
"Oscar says this is rather more complicated than suing your father and bringing the whole matter into the public eye - but of course he does. He has no choice. He loves Bosie Douglas....
"I think in a sense it is seduction, temptation and death basically."
Salome eventually premiered in Paris in 1896 while Wilde was in prison.
Al Pacino's film premiered in September at the Venice film festival where he received the Jaeger LeCoultre Glory to the Filmmaker Award for his work, a rewarding end for a worthwhile journey, he said.
"In the end when people walk out of that theatre and they want to know more about Oscar Wilde and they want to buy his other plays and read his great poems and his essays, well that to me is more than delightful - it is moving," he said.
Oscar and Al Pacino will be on BBC Radio 4 at 16:00 GMT on Monday 14 November 2011.