Tom Morello: Providing the soundtrack to a rebellion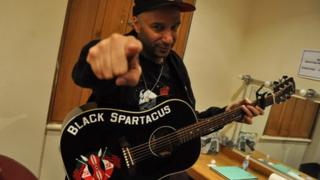 At a time when governments are falling in the Middle East and Westerners are forming occupations, protesting against what they say is a greedy capitalist system, what better name for a new album than World Wide Rebel Songs?
This is the title of Tom Morello's latest offering, his fourth album under the guise of his solo alter-ego The Nightwatchman.
The guitarist, best known for his ear-splitting antics with Rage Against the Machine, appeared at the O2 Academy Brixton, south London, on Wednesday.
But not before getting to the encampment at St Paul's Cathedral to play a few songs to rouse the masses.
Occupy 'world tour'
He arrived late and the public address system had been shut down so the music did not clash with evensong at the cathedral. Undeterred, Morello grabbed his acoustic guitar and played three songs around the corner, watched by a few hundred people while doing battle with the sound of helicopters buzzing overhead.
Morello says appearing at St Paul's was a "highlight of this tour" and describes himself as being "on the Occupy 'world tour' right now", having visited similar movements in cities across the US and in Canada.
"It's very inspiring and invigorating, as an artist who has fought for social justice causes over the course of the last two decades, to see this global, class-conscious movement of people from all walks of life, all standing up for their rights.
"Every successful progressive movement needs a soundtrack, and I'm doing my best to provide the part that I can."
While Morello does agree that World Wide Rebel Songs is an apt album title at a time of growing global movements of protest - "now in over 1,300 cities, towns and hamlets" - he says that it was actually conceived long before the occupations began, about 18 months ago, describing the name as "prescient in nature".
'Selfless solidarity'
He adds: "A lot of guitars used to be made in a factory in Seoul, South Korea. The workers in that factory formed a union. Because of that they were all fired, the factory was shut down and moved to China, a typical move.
"Those Korean workers came to the United States, looking for help. I offered to play a benefit show for them, but the day before the show the Haiti earthquake happened.
"So these workers, who had travelled 6,000 miles and were in desperate financial need, voted to donate 100% of the proceeds from their benefit show to the Haiti relief effort. I was very moved by that selfless act, of international solidarity.
"I wrote the song World Wide Rebel Songs that day, performed it that night, and it became the kick-off for this record."
He describes the album as "a reflection of, and a window into, the kind of world that I'd like to live in, the world that I fight for in my music, and it's a world that I also see reflected in the Occupy movements of today".
He adds: "Music is part of every successful uprising. There's something hard-wired into human DNA, that music speaks to you like nothing else does. When you get the components right it feels like the truth.
"You can read a pamphlet one time, but you can sing a song a hundred times, and when you sing that song with hundreds of people at the same time, it's a feeling of solidarity that really can put wind in the sails of a social justice movement."
Born activist
Morello has been named as the 26th greatest guitarist of all time by Rolling Stone magazine, and has also achieved considerable success with bands such as Audioslave and Street Sweeper Social Club. But despite his career, wealth and status, he still feels the need to strap on his trusty guitar, take to the streets in all weathers and engage personally with those protesting for their particular causes.
He has a Twitter account and has written articles about such issues as a proposed Bill in the American state of Wisconsin, intended to save the state tens of millions of dollars but which would severely restrict collective bargaining, which he sees as a major blow to unions there.
However, this is not enough for Morello, who has previously stated how he has been "arrested more times than I'm willing to put into print in support of striking workers".
And so Morello feels his ability to capture powerful, political lyrics, wrapped around a dextrous display of guitar showmanship - during gigs he plays guitar with his teeth - is more fitting than ever before.
He says: "There are things you choose, and things that choose you. I didn't necessarily choose to be a musician, that's something I was kind of born into, and being an activist is also in my DNA.
"It's my nature. I'm not a twitterer by birth, I'm a guitar player and a songwriter. I'm not comfortable sending off something on my Facebook page, which I may do as well, but I like to be involved in a cause.
"The lesson of the Arab Spring is that you go do it. You can also twitter about it, but you do it, and I want to lend my music and lend a hand as best I can to help move the wheel of progress forward."
World change
The Arab Spring was reported not just by the corporate-controlled media, but by people on the street, using social media.
"It taught a lesson that all you need to do to change the world is walk out your door, and change the world," says Morello.
He also says the global financial crisis has been "rightly put at the malfeasance of the corporate sector, who have torpedoed the global economy and caused so much misery for so many people".
Despite The Nightwatchman taking his own path, Morello will always be associated with Rage Against the Machine, who memorably beat the X Factor's single to the top chart spot at Christmas 2009. He smiles broadly at the memory of it, and later thanks the concert crowd for "giving the finger" to Simon Cowell and his stable of artists.
"Currently, at one show a year, the band is touring at a very gentlemanly pace, but if some point at the future there are plans, we'll not keep it secret," he says, suggesting that future revolutions will continue to be well supplied with soundtracks.