Jeffrey Eugenides spurred on by Franzen rivalry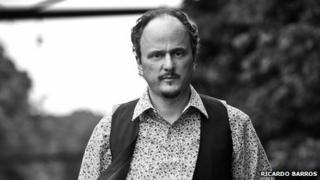 Pulitzer Prize-winning author Jeffrey Eugenides admits to a rivalry with fellow writer Jonathan Franzen but says the pair are "growing out of it", in an interview with Mark Lawson on Radio 4's Front Row.
Eugenides says the "friendly competition" between him and fellow author Franzen has been "useful".
"It's very male I think but you get spurred on by the other person," he says.
"We're growing out of it now that we're hitting middle age, but as young writers you feel a comradeship, and of course you feel a bit of jockeying too is inevitable.
"We're friends and we've gone along our own paths, we're very different writers so it doesn't come down to fisticuffs."
But Eugenides says he and Franzen, writer of Freedom and The Corrections, seem to be in a cycle when it comes to releasing their books.
"We're published by the same publishers, so they try to arrange it so we don't come out at the same time.
"I don't know if it will happen again, but it's strange - twice it's happened that I'm a year after him."
He jokes that one consequence of this is that he always gets asked about the length of time it takes him to write his novels, but Franzen does not.
His new book The Marriage Plot took him six years to write, he says. His last book Middlesex, which won the Pulitzer Prize for fiction, was released in 2002.
"You get a certain thing attached to you, with me it's slowness, and it's hard to shake it off but it could be worse I suppose."
He has published short stories but only one other novel, the cult best-seller The Virgin Suicides in 1993 but he says he does plan to publish more.
"I'm going to ramp up production," he says.
"I have got a book of short stories almost finished, I will finish it probably within the next year so I will have another book out quite soon. [But] I'm sure these questions [about slowness] will not cease."
Irritated editor
Eugenides says the characters in The Marriage Plot came out of another abandoned novel about a rich family throwing a debutante party.
He says he started to focus on the daughter Madeleine more and more and she consequently became the central character of The Marriage Plot.
And, he says, this was not the first time he has given up on a novel.
"I've abandoned four or five. I have quite a few aborted novels that I didn't think deserved anyone's time and didn't publish them, so I could have a longer list of publications, but you might not be talking to me."
He says his slowness does sometimes annoy his editor.
"My editor Jonathan Galassi is extremely patient, until he isn't, and then finally one day he comes and physically wrests the manuscript from my hands.
"When I finished Middlesex I was living in Berlin and he flew all the way over to Berlin, took the manuscript back to New York, read it and told me I was finished.
"He did a similar commando raid for the The Marriage Plot last December, and told me I was nearly finished and that I had better finish it by April. So he's patient until he suddenly loses patience."
Eugenides also explains why he has gained a reputation for resisting questions about his personal life.
"What I resist is the idea that an autobiographical reading means that the novel is absolutely consistent with your autobiography.
"Of course you draw from things in your life, you can't but do that in order to make a story real, and credible and new.
"But you change so many things while you do that, that the result is not consistent with your own life. That's what I think all of us writers resist.
"People think that if they read the book they'll know you and know what happened to you, but you know that you've changed so many things to make it work fictively that it's not the best way to read it.
"And my own life I'm quite sure is duller than my own books."
Although some people think otherwise, like the artist Tacita Dean's mother.
"[She] said a very funny thing. She read Middlesex [which has an intersex protagonist] and she was telling Tacita: 'Well he must be intersex or something'. Tacita was saying: 'No, no, of course not. I know him'.
"And her mother said: 'Don't be so naive!'"
The Marriage Plot is out now.