Roy Lichtenstein work sets new $43m sale record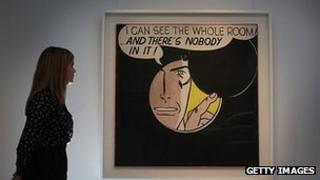 A painting by pop artist Roy Lichtenstein has sold at auction in New York for $43 million (£27 million), setting a new record for his work.
I Can See the Whole Room! ... and There's Nobody in It!, painted by the late artist in 1961, shows a man's face peering through a peephole.
The comic strip-inspired work was part of a sale of post-war and contemporary art at Christie's auction house.
His previous record of $42 million (£26 million) was set in November last year.
That was for Lichtenstein's 1964 work Ohhh... Alright... which portrayed a woman talking into a telephone.
Tuesday night's auction also saw a record sale for Louise Bourgeois for her 1996 bronze spider, which fetched $10.7 million (£7 million).
Andy Warhol's Four Campbell's Soup Cans went for $9.8 million (£6.1 million).
A leading figure in the pop-art movement, Lichtenstein's work was influenced by popular advertising and comic books.
He died, aged 73, in 1997.