Booker nominee Esi Edugyan wins Canadian literary prize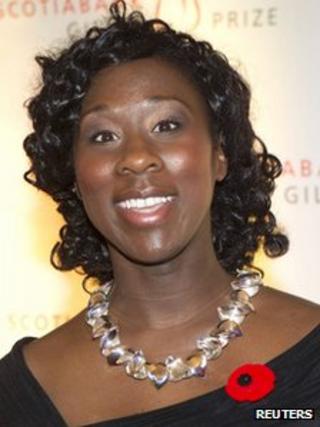 Booker prize nominee Esi Edugyan has won the Giller Prize, one of Canada's most prestigious literary awards.
Her book, Half-Blood Blues, tells the story of a group of jazz musicians trying to survive in Europe during World War II.
Accepting the $50,000 (£30,000) prize, Edugyan paid tribute to her father - a Ghanaian immigrant who moved his family to Canada in the 1970s.
The Booker prize was won by Julian Barnes for The Sense of an Ending.
Edugyan, 33, was born in Calgary and is now based in Victoria, British Columbia.
"I didn't expect this, and I've only scrawled a few things on a piece of paper," she told the audience at the award ceremony in Toronto.
The shortlist of was chosen from 143 books submitted for consideration by publishing houses across Canada.
Edugyan's writing was praised by the jury - which included Scottish playwright and novelist Andrew O'Hagan - for being "deceptively conversational and easy".
The jury added: "It's conventional to liken the prose in novels about jazz to the music itself, as though there could be no higher praise.
"In this case, say rather that any jazz musician would be happy to play the way Edugyan writes."
Past winners of the Giller prize include Margaret Atwood and 2009 Man Booker International Prize-winner Alice Munro.
Esi Edugyan has degrees from the University of Victoria and Johns Hopkins University and wrote her debut novel, The Second Life of Samuel Tyne, when she was 25-years-old.