Roald Dahl Funny Prize won by Cats Ahoy!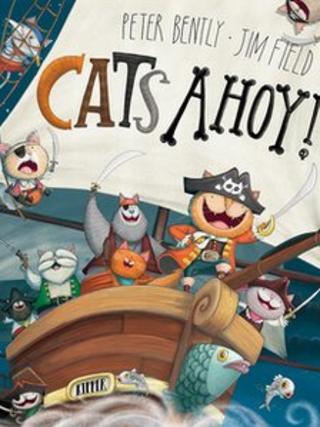 A rhyming picture book about pirate cats has won the Roald Dahl Funny Prize, which honours humorous books for children.
Cats Ahoy!, written by Peter Bently and illustrated by Jim Field, was named funniest book for children aged six and under.
Liz Pichon's The Brilliant World of Tom Gates also won the prize in the seven to 14 age category.
Both winners were presented with a £2,500 cash prize at a London ceremony.
"These two books are master classes in how to write and how to draw funny," said chair of the judges, author Michael Rosen.
"Cats marauding as ghost pirates to steal fishy bounty from lily-livered humans: what more do you want from a funny book?" Rosen said of Cats Ahoy!
On Pichon's winning book, he added: "This book is a must for anyone who doodles, likes to wind up their sibling, has a serious caramel wafer habit and enjoys having their chuckle muscles exercised."
Bently's book beat competition from five other authors including Ed Vere and Alexis Deacon.
Ros Asquith and Monty Python's Terry Jones were also nominated in the seven to 14 age category.
Judging alongside Rosen were Horrid Henry author Francesca Simon and illustrator Tony Ross, Yes Man author and journalist Danny Wallace and author Grace Dent.
This year, children also had a role in the judging process with 400 school pupils picking their favourite book.
Their votes were then combined with the votes of the adult judging panel to find the two winners for 2011.