Rebecca Hall turns ghost buster in The Awakening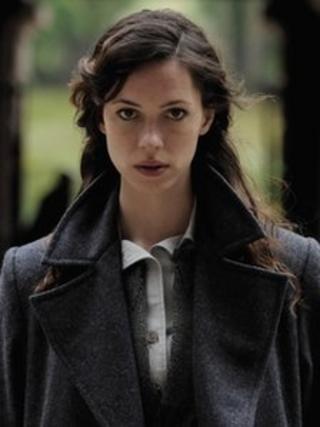 After prominent roles in films like The Town and Vicky Cristina Barcelona, Rebecca Hall takes on her first leading role in period chiller The Awakening.
Set in 1921, The Awakening is a portrait of England in the grip of post-war trauma.
"That was one of the principal things that appealed to me about this project," says its star Rebecca Hall. "I thought a ghost story was a good way to talk about grief."
The British film, directed and co-written by Nick Murphy, shows how the colossal losses of World War I led some of the bereaved to seek comfort in spiritualism.
The story opens with Hall's character, Florence Cathcart, at a seance.
Cathcart specialises in exposing fake spiritualists, but she is also grieving for a fiance she lost in the war.
"We tend to think Brits all have stiff upper lips, but there was a period in our recent history when it was the fashion to go to seances - really hokey, overblown performances - and people wanted to believe them," says Hall.
"It says more about the state of the nation than it does about ghosts."
Prior to filming The Awakening, Hall read Robert Graves' Goodbye to All That, The Great Silence: 1918-1920 Living in the Shadow of the Great War by Juliet Nicholson and "a lot of war poetry".
"I don't think I ever took on board there was a period in our history when there was not a single person not affected by loss or grieving," she says.
"It's one thing to study the First World War at school and realise how may deaths there were, but it's another to think about what it must have been like at home - to see women pushing prams without their husbands, and the sense of somebody missing."
Most of The Awakening is set at an isolated boarding school, which Florence visits at the behest of schoolmaster Robert Mallory (Dominic West) and a matron played by Imelda Staunton.
"Boys believe in Santa Claus and the Tooth Fairy," says Florence as she sets out to prove there's no paranormal activity. "Some of them even believe in God."
One of the film's creepier moments involves a seemingly possessed doll's house.
"I always found doll's houses a bit scary, a bit like clowns," admits Hall. "I got scared reading that scene in the script. Every ghost story needs a central image like that."
How does she feel about the horror genre?
"People say 'genre' and make a face like it's something to be a bit ashamed of. Everything's a genre. I often think that genre movies - especially horror movies - have a cultural significance that's not to be snooty about.
"There are many great horror movies. I'm not a wild fan of gore. Personally I love a good ghost story. When I was a kid I used to watch Robert Wise's The Haunting and I loved The Shining."
'Causing havoc'
The daughter of theatrical veteran Sir Peter Hall and US opera star Maria Ewing, Hall's film roles include The Prestige, Starter for Ten, Frost/Nixon and Dorian Gray.
In 2006 she was nominated for a best actress Golden Globe for Woody Allen's Vicky Cristina Barcelona and more recently she appeared in Ben Affleck's The Town and Nicole Holofcener's Please Give.
She won a Bafta in 2010 for her role in Channel 4's Red Riding: In the Year of Our Lord 1974, and at the start of 2011 played Viola in Twelfth Night at the National Theatre, directed by her father.
Hall is currently filming BBC Two/HBO miniseries Parade's End. Set in the 10 years up to the end of World War I, the five-part drama is adapted by Sir Tom Stoppard from a quartet of novels by Ford Madox Ford.
Hall plays Sylvia, the "beautiful but cruel" wife of English aristocrat Christopher Tietjens, played by Benedict Cumberbatch.
"She's an example of why it's a really bad idea not to educate women and give them work," laughs Hall. "She's a very bright woman who's so bored, so all that brain power has to go somewhere - and it goes into causing havoc."
Hall admits she is herself "restless and bloody-minded" in her career, and isn't interested in A-list pampering.
"Movie sets are incredibly safe places for an actor because there are 20 people employed to ensure that an actor is wrapped in cotton wool, and given tea, and has a cushion underneath them.
"It's really ridiculous, frankly, and I get into a lot of trouble with these people assigned to keep an eye on me because I'm always wandering off to do something on my own to get away from them."
She recalls one such escapade while on location for The Awakening in Scotland.
"I'd go wandering off down corridors and try to scare myself by opening some cupboards to find something spooky, but no such luck - I'd just find a boom operator with a sandwich!"
The Awakening - a StudioCanal/BBC Films production - is released 11 November.