Phone hacking: James Murdoch will face MPs again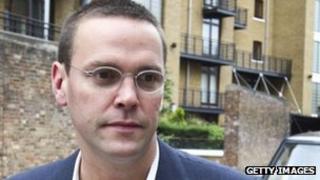 This round-up of Monday's main media stories reports on the return of James Murdoch to face MPs later this week.
James Murdoch, chairman of News International, returns to Westminster on Thursday to answer questions from the Commons culture, media and sport select committee about his knowledge of illegal activities by his employees. The Guardian says he will concede that more should have been done to investigate, but plans to sidestep any questions about the size of the severance payment made to former News International chief executive Rebekah Brooks. The Observer reported at the weekend that she received £1.7m, and the use of an office and a chauffeur-driven car.
Stephen Glover adds in the Independent that MPs must "raise their game" on Thursday: "In July, some of them might as well not have turned up, they were so feeble. A few - notably Labour MP Tom Watson - were more formidable, but even they lacked proper forensic skills."
David Abraham, chief executive of Channel 4 for the past 18 months, tells the Independent he is not worried by the apparent resurgence of its rival Channel 5, owned by the media mogul Richard Desmond. The paper says he is "convinced that Channel 4 is performing better than its critics suggest… and doesn't accept the narrative that says Channel 5 is on the up, with profits soaring and a new, young audience arriving to watch Big Brother."
Channel 4 News will relaunch tonight with new opening titles and a new set. The occasion is marked with a feature in the Guardian: "For so long the 'Jon Snow Show', Channel 4 News is now a two-hander with Snow and Krishnan Guru-Murthy joined on a four-strong presenting rota by former political correspondent Cathy Newman and Matt Frei, one of a string of high-profile signings from the BBC including Newsnight's Michael Crick and Jackie Long." Jon Snow tells the paper: "The BBC has got a morale problem. A lot of people I know at the BBC feel very unloved... We have quite the reverse of that".
As another series of Downton Abbey ends, Jan Moir says in the Daily Mail "the plots have been barmy, but we've loved every melodramatic minute".
Greece, declares the Times, has stepped back from the brink with its decision to form a unity government. But there is a widespread belief that this is not the end of the matter, as reported in the BBC's newspaper review.