Vanessa Redgrave to receive Oscar tribute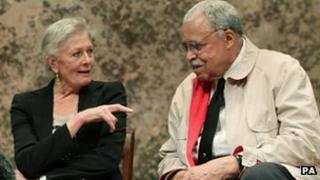 British actress Vanessa Redgrave is to receive an Oscar tribute in London this weekend.
Attending the event on Sunday are host David Hare, Meryl Streep, Ralph Fiennes and Redgrave's current West End co-star, James Earl Jones.
Jones, starring opposite Redgrave in Driving Miss Daisy, will pay tribute to Redgrave on the night.
He will accept an honorary Oscar via video link to the Academy's Governors Awards in Los Angeles on Saturday.
Jones was due to receive his Oscar in person but decided he did not want to interrupt his run in the London play.
Redgrave and Jones reprised their roles as Miss Daisy and her chauffeur, Hoke, following the play's successful Broadway run.
Redgrave, 74, has appeared in more than 80 films, including 1977's Julia for which she won the best supporting actress Oscar.
Jones, 80, who is best known as the voice of Darth Vader in the Star Wars films, has appeared in more than 50 films during his career and was Oscar-nominated in 1971 for The Great White Hope.
His other credits include Field of Dreams, Patriot Games and The Hunt for Red October.
Chat show queen Oprah Winfrey will also be honoured at the Academy's Governors Awards on Sunday.
She will receive the Jean Hersholt Humanitarian Award for her philanthropic work.
Make-up artist Dick Smith, known in the industry as "the godfather of make-up", will also receive an honorary Academy award. Smith won an Oscar in 1984 for his work on Amadeus.
He also worked on The Exorcist, Taxi Driver and The Deer Hunter.