Robert De Niro to star as disgraced financier Bernie Madoff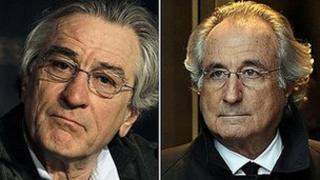 Robert De Niro is to play disgraced financier Bernie Madoff in an HBO movie he will produce, according to reports.
Laurie Sandell's book, Truth and Consequences: Life Inside the Madoff Family, will be used as source material, The Hollywood Reporter says.
Diane Henrique's best seller, The Wizard of Lies: Bernie Madoff and the Death of Trust, will also be used.
Madoff is in prison for fraud in the US after conning £41bn from thousands of investors.
The film will be written by John Burnham Schwartz, who wrote the novel Reservation Road, which was turned into a film in 2007 starring Joaquin Phoenix.
Sandell's book was written with the co-operation of Madoff's son Andrew and other family members.
Andrew and his mother Ruth helped promote the book on TV, including an in-depth interview on CBS programme 60 Minutes.
In 2009, Bernie Madoff admitted defrauding investors through a Ponzi scheme, which paid out using their money rather than any profits.
He said the scheme had been running since the early 1990s.