Aardman threatens overseas move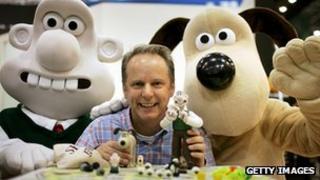 Wallace & Gromit maker Aardman's head of TV has said the company may have to halt UK production of its famed stop-motion animations because it has become too expensive.
Miles Bullough told Radio 4's World This Weekend there was a "crisis" in the UK's TV animation industry and that home-grown shows were being lost to cheaper foreign competitors.
"When a company like Aardman is considering offshoring stop-frame animation, which we are at the moment, something's got to be wrong," he said.
The main problem, he said, was that while films made in the UK can receive government help in the shape of a 15-20% tax credit, UK TV animation receives nothing.
As a result, many British companies were either sending their shows abroad to be made or were being bought out altogether, he said.
"There is genuinely a crisis. HIT, a beacon of excellence in children's animation in the UK and maker of Bob the Builder and Pingu, has just been bought by US company Mattel.
"Cosgrove Hall, known for Dangermouse and Avenger Penguins, is sadly no longer with us."
Aardman is most famous for the Wallace & Gromit television shorts and feature film, but it has also had a big TV hit with Shaun the Sheep which is now seen in more than 180 countries.
The show is currently still made in the UK - at Aardman's Bristol studios - but if companies are increasingly having to outsource their shows overseas, it could "threaten the country's cultural heritage", said Mr Bullough.
"Do we want to see Bob the Builder driving on the right-hand side of the road? That is what will happen if we don't watch out," he said.
"And do you want our children thinking that the emergency services number is 911? If we let cheap American products come into the country we are selling our children short."
Companies in Canada, Ireland and France also receive government support for producing TV animation at home and in some countries there is protection against imported products.
If the situation was the same in the UK it would be "a tremendous boost to our industry", said Mr Bullough.
He added that, at a time when the government was having to make widespread budget cuts, the potential profit for the Treasury had been outlined in an Animation UK report called Securing The Future Of TV Animation In The UK.
"Animation is such a labour-intensive undertaking that by retaining jobs in the UK we increase national insurance receipts, tax receipts, expenditure and VAT receipts and actually a tax credit should be profitable in the long run," he said.
Treasury spokesman Matthew O'Toole told the BBC News website: "We recognise the importance of the animation industry and the UK's proud international reputation for excellence in this creative sector. The future support for this is being considered as part of the film policy review, which is expected to report to ministers shortly."