London 2012 Festival: Will it pull in the crowds?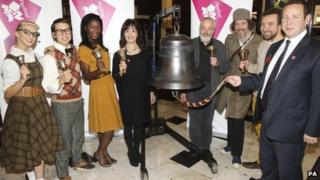 Plans for the London 2012 Festival - a national explosion of arts events to run alongside the Olympic Games - have been unveiled. So what's on offer and will it draw in the crowds?
The London 2012 Festival is the grand finale of the Cultural Olympiad, a programme of arts events that have been running since 2008.
The nationwide festival begins on Midsummer's Day on 21 June and runs through to 9 September - the end of the Paralympic Games.
There are 1,000 events on offer and the organisers have promised 10 million free chances to see something at the festival.
They hope it will act as a taster for people to try out different types of art.
The list of names of those already signed up to take part includes: Damon Albarn, Alan Ayckbourn, Cate Blanchett, Tracey Emin, Damien Hirst, David Hockney, Jude Law, Mike Leigh and Leona Lewis.
At the festival launch in London, actor Mark Rylance gave a taste of his pop-up Shakespeare show when he gave an impromptu performance to packed room of journalists.
Rylance and a cast of actors will give individual performances to the public on the streets of London.
"This is a thing I've done for 17 years on Shakespeare's birthday with actors disguised as normal people," said the star of West End stage hit Jerusalem.
Asked how he would approach a "grumpy Londoner" with a line from the Bard, Rylance turned to the person sitting nearest him, and said: "Shall I compare thee to a summers day?"
The performance won a round of applause.
"Some of it might be confrontational and some of it might be intimate," said Rylance, "but it will be out in the street and for free which is the wonderful thing about this."
Other London 2012 Festival events include:
A nationwide bell-ringing event masterminded by artist Martin Creed at 0800 on 27 July - the first day of the Olympics.
The shores of Lake Windermere, Cumbria, will be lit up by fire in an outdoor musical show.
An art installation which will span the 86-mile length of the remains of Hadrian's Wall.
Stonehenge will be turned into "a glowing fairy-tale environment".
In Northern Ireland, the Giant's Causeway will be transformed with a light installation.
In Edinburgh, runners wearing specially designed light suits will illuminate Arthur's Seat.
An "all-star concert" in Northern Ireland
Mike Leigh has made short film, A Running Jump, filmed in East London.
Big Dance will encourage 5 million people to take part in all kinds of dance.
Festival organisers also promised an "astonishing" open-air concert with Venezuelan conductor Gustavo Dudamel and the Simon Bolivar Symphony Orchestra at Scotland's Stirling Castle.
Young people from a deprived local housing estate who have been learning how to play stringed instruments as part of an Olympiad project will join the orchestra for the performance.
Many more events are yet to be announced including programmes for the Edinburgh festivals and the Proms.
Olympiad brand
The atmosphere around the four-year Cultural Olympiad hasn't always been so positive. In its early stages it came in for criticism for the breadth of its ambition.
In 2009, former Arts Council chairman Sir Christopher Frayling spoke out against the Olympiad, suggesting there were too many organisations involved, which would prevent it from being a success.
Some claimed the Olympiad did not have enough public recognition. Richard Huntington of Saatchi and Saatchi told BBC London earlier this week that it was "profoundly invisible" as a brand name.
Royal Opera House executive Tony Hall came on board as chairman in 2009, tasked with turning the Cultural Olympiad around.
Earlier this year, the final 12 weeks of the event were rebranded the London 2012 Festival.
Hall has described it as "the country's biggest ever cultural celebration".
Ruth Mackenzie, who became Olympiad director at the beginning of 2010, denied that people had failed to connect with the Cultural Olympiad.
"Sixteen million people have taken part since it started in 2008, which is a phenomenal achievement," she told the BBC.
"I've never worked in any cultural organisation where 16 million people have participated - that's more than a quarter of the population."
She said some events for the festival - such as Damon Albarn's "folk opera" Dr Dee - were already selling out.
The provision of 10 million free tickets to other events would encourage audiences to "take risks", she said.
"For me the importance of today is to build up to an incredible year and make sure everyone feels they can have an amazing summer with some amazing art as well as some amazing sport."