Making a drama out of riot crisis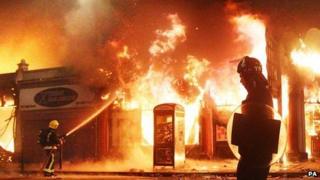 Three months after the English riots, a radio play by a writer of Skins and This Is England '86, to be broadcast on BBC Radio 3 on Sunday, provides one of the first dramatic responses to the crisis.
In A Summer Night, which will be broadcast live from the Sage in Gateshead as part of Radio 3's Free Thinking Festival, three characters find themselves caught up in the unrest that erupted in London in August.
There is a 17-year-old boy going to a party, a private nurse trying to cross the city to reach an elderly patient with Alzheimer's and a police officer who normally works in telephone fraud but has been thrust onto the front line.
"Hopefully they don't do the things people expect them to do," says Jack Thorne, the play's author.
It has not taken long for writers to get to grips with the anarchy and fear of the temporary collapse of law and order in a string of neighbourhoods across England, which resulted in five deaths, 2,500 attacks on businesses and more than 3,000 arrests.
On 17 November, the Tricycle Theatre in London raises the curtain on a play called The Riots, pieced together by the South African writer Gillian Slovo from real-life evidence ranging from taxi drivers' tweets to interviews with politicians.
"And there'll be many, many more to come," says Thorne, predicting a flurry of productions set amid the chaos of those August nights.
"I've got a friend who works at a TV channel and he said, yeah, if you hear of a bomb at Canary Wharf, half an hour later you've got a TV producer on the phone going, I've got you this really exciting drama about a bomb at Canary Wharf," Thorne adds.
"That's just the nature of what we do."
Thorne is wary of coming across as a "vampire" by seizing on other people's misfortune, saying he did not initially want to tackle the subject but was persuaded to use the format of a play to provide a new perspective on the events.
"An extraordinary thing happened to our city, an extraordinary thing happened to our country, and we don't seem to have talked about it much actually," he says, referring not to the coverage at the time but the soul-searching since.
"It's weird that it sort of seems to have gone away in a strange way.
"Fundamentally it was a night about people," he continues. "All A Summer Night does is try to represent some of those people, and it certainly doesn't provide any answers.
"It was an extraordinary thing that I didn't quite understand, and I didn't think that anyone really in power worked hard enough to understand either.
"The piece doesn't try and make a political point about who was responsible or any of that stuff. It's just three quite ordinary people trying to navigate their way through it and all sort of fall into it by accident.
"There were so many people who didn't really know what was going on, and I suppose the drama, if it's about anything, is about the people who didn't really know what was going on."
Luton-based Thorne was himself in Tottenham on the night of Sunday 7 August, keeping a friend company in her flat rather than watching events on the streets.
"We just stayed in and there were various crashes and bangs," he says. "I think we watched a film to be honest."
For the fictional police officer, voiced by Frost/Nixon and Infamous actor Toby Jones, Thorne has taken inspiration from real officers who wrote anonymous online accounts of their experiences.
"There's a lot about shoes in the play because I was reading a police blog about shoes," Thorne says. "You wouldn't think that you need the right shoes for a riot. But they're not issued shoes. So my guy's not wearing the right shoes.
"There are lots of details like that. I like little details."
Real-life drama
Thorne, 32, made his name by writing for the stage and his last radio drama, People Snogging In Public Places, won the gold award in the drama category at the Sony Radio Awards last May.
He has written episodes of Skins, co-created Channel 4's mock reality show Cast-Offs and his supernatural teen thriller The Fades has just completed its six-episode run on BBC Three.
He also co-wrote This Is England '86 with Shane Meadows and the pair have collaborated again on the follow-up, set in 1988, which goes out on Channel 4 in December.
Shocking or momentous real-life events like the riots are such strong stories that dramatists can rarely resist recycling them.
But Thorne believes writers do more than that - they can give a fresh understanding of the human stories behind the headlines.
'New insight'
He mentions two productions about the murders of five prostitutes in Ipswich in 2006. London Road, a play at The National Theatre, and BBC One's Five Daughters, were two of his favourite dramas of the last five years, he says.
"You knew the story and they went, yeah, but did you consider this story?" he says.
"London Road was very specifically about the residents of the street where the murderer lived, and Five Daughters was about the victims, which I hadn't properly considered.
"They were prostitutes and you don't really consider the stories of the victims, and as soon as you do, well for me, it gave me new insight into what actually happened during that time in Ipswich.
"I love that and I think that's what drama does well. It can give you the people."